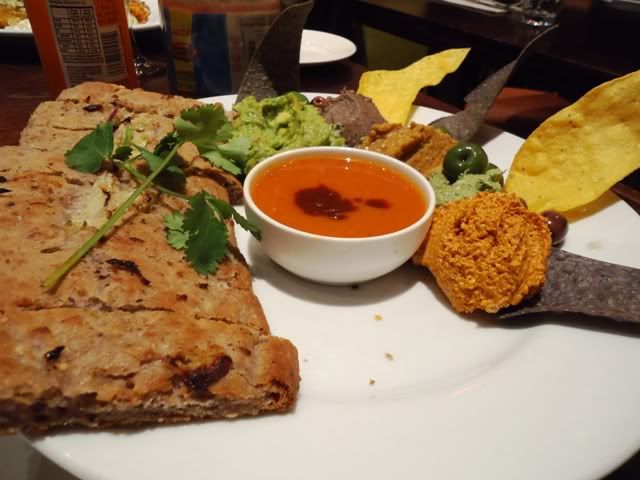 It's not often I go southside so when I do have a decent list of places to try which helps with the "oh god I'm so far from home" anxiety! I wanted to go to Blue Corn the last time I was in St Kilda (to see Grace Jones ONE OF THE BEST CONCERTS I'VE EVER BEEN TO!) but we went to
Laus Family Kitchen
instead which I found average so didn't blog about it. Blue Corn is awesome, really super vegan and gluten free friendly. The dining room can be a little cold and the furniture is kind of uncomfortable but they certainly make up for everything with the food!
So.much.food. Seriously order a plate between two people. Pictured is the dips platter with home made blue corn bread. Some of the dips didn't float my boat, the corn bread was spectacular though. They also serve fresh chipotle with their meals which is a huge deal for me! On the decent Mexican in Melbourne stakes it sits comfortably between Mamasitas and Trippy Taco. If you're south of the border, hit Blue Corn! (thanks to Cindy and Michael for the recommendation).
Deets:
205 Barkly Street, St Kilda
web:
Google place page
$$:
my platter was $18 or $20 but could easily feed two people.
Other voices, other times:
the breakfast blog
pocket carnival
ballroom blintz
tomato
eat and be merry for tomorrow we die(t)
where's the beef?