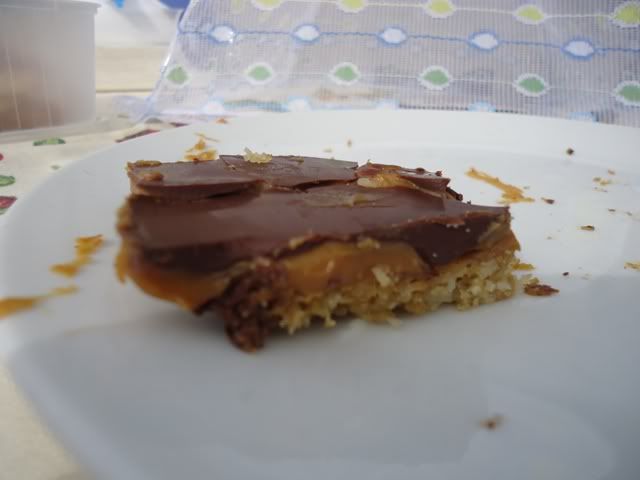 These will rock you into diabetic shock like no other recipe on this site. I made these cuties for my first
bake sale
and they went so quickly I barely managed to get a shot of the last one!

ingredients
1 cup flour
1/4 cup (packed) golden brown sugar
1/2 cup dessicated coconut
1/3 cup nuttelex
Pinch of salt
1 x tin of soy caramel condensed milk
60g copha, chopped
125g vegan chocolate

method
1. Preheat the oven to 180 degrees. Combine flour, brown sugar, coconut, nuttelex and salt to create the biscuit base dough then press into the bottom of a small slice pan (taste.com recommends a 3cm deep, 28 x 18cm (base) lamington pan). Prick crust mixture with a fork and bake until golden, about 20 minutes. Cool completely.
2. Pour caramel condensed milk over the top of the biscuit base, smooth.
3. Place copha and chocolate into a heat-proof bowl over a saucepan of simmering water (or microwave for 30 seconds). Stir until melted and combined. Pour over caramel evenly and pop in the fridge until set.
notes:
Original recipe called for 1/2 a cup of butter for the base, its just too much for me. There were massive pools of oil, just felt it unnecessary. I would even go so far as to a 1/4 of a cup, you just need enough to bind the ingredients. I found this messy to cut up, I'm thinking about using a springform pan next time.
If you can't get to
Radical Grocery
you can get soy caramel condensed milk online (or at your local health food store hopefully). Any other helpful online Aussie stores guys?
The Vegan Store
(Brisbane based)
The Cruelty Free Shop
(Sydney based)
Vegan Online
(Adelaide based)
Absolutely Gluten Free
(Werribee)