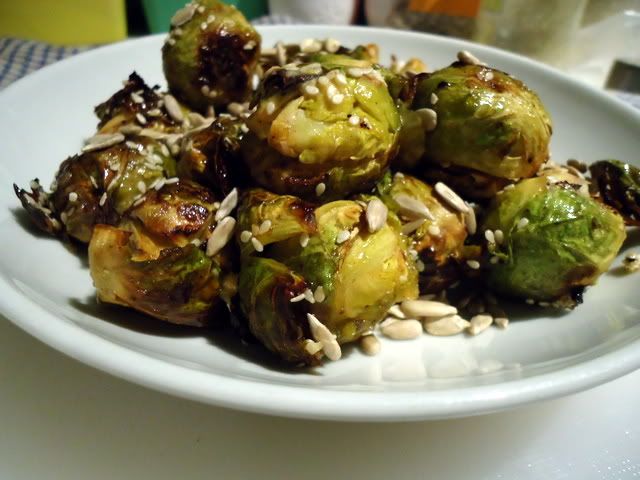 Ahh winter! Brussel sprouts, asparagus, artichokes, this is my favourite time of year for produce. Combining my two obsessions, brussel sprouts and tahini here is my current favourite recipe.

ingredients
500 gms of brussel sprouts, ends trimmed and yellow leaves removed
1 tbsp of olive oil
sea salt and pepper
1 tbsp tahini
1 tbsp of maple syrup (or rice syrup - liquid sweetner of choice)
1 tbsp of sunflower seeds (optional)
1 tsp sesame seeds (optional)
method
1. Preheat oven to 205 degrees celcius. Toss the brussel sprouts in the olive oil and sprinkles of salt and pepper (I love loads of salt but do it to your taste) and roast for about half an hour, shaking the pan every 5-10 minutes to get even coverage. The brussel sprouts are done when they look like a roast potato (see picture).
2. Remove sprouts from the oven and put into a heat proof bowl. Drizzle the tahini and maple syrup over them, toss to cover sprouts evenly then sprinkle with sunflower seeds and serve.