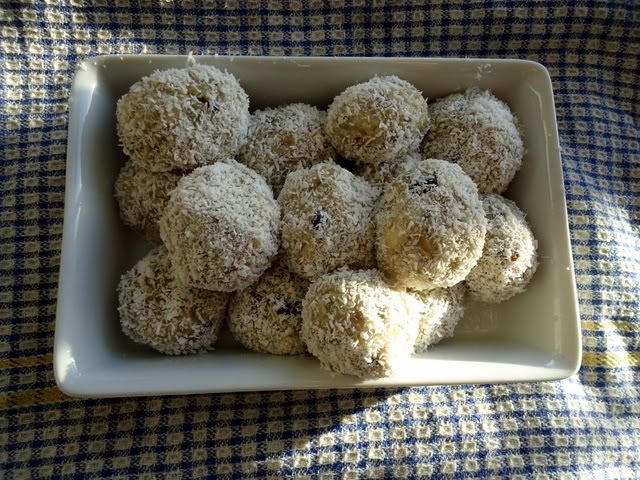 I am currently obsessed with tahini I drizzle it on everything. Tahini on toast with sunflower seeds and LSA is my favourite breakky in the world! I've been trying to incorporate more raw foods into my diet lately and after meeting
Miss Organic
at the
first shoe party
I started looking at her website and of course this recipe caught my eye! These are SO delicious and SO filling! I pack 3 for a snack when I'm at work, they have replaced chocolate for me (which is a good thing). Quick and easy, I store them in a air tight container in the fridge. Nom nom.
Recipe from the Miss Organic Website
Ingredients
1/2 cup tahini
3/8 cup raw agave syrup*
1/2 cup dessicated coconut
1/2 cup mixed pre-soaked chopped nuts (e.g. macadamias, almonds, brazil nuts)*
1 cup finely chopped mixed dried fruits (e.g. apricots, figs, currants)
method
1. Pulse in a food processor until combined. Roll into walnut size balls and toss lightly in coconut.
notes:
I used 1 1/2 cups of raw trail mix. If you cant find raw agave syrup, I'm sure maple would work just as well.