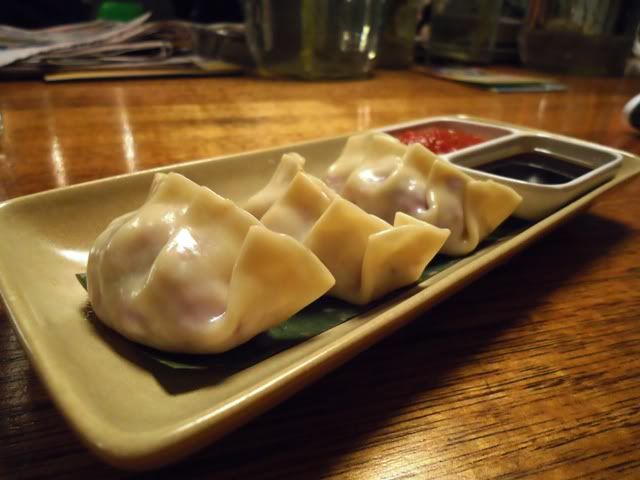 vegie wontons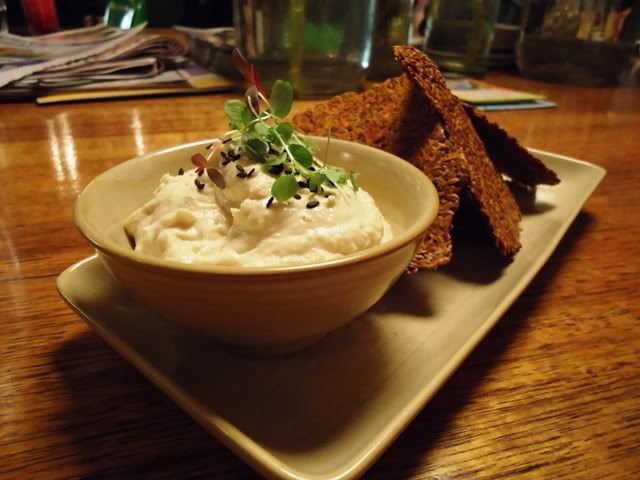 raw chickpea and cashew dip with linseed crackers
I'm a huge fan of the Vegie Bar. I lived on Rose st 7 years ago when I first moved to Melbourne and ate there practically everyday. I've tried the majority of the menu, most of which they do very successfully (cheap and cheerful food loaded with fresh vegies, servings big enough to share between 2 people). They have an updated menu with some raw items (they are opening a raw restaurant behind the Vegie Bar on the alley apparently) and stopped in the last time I was in Fitzroy.
The wonton/gyoza, although beautifully presented, didn't really do much for me. The sprouted chickpea dip with linseed crackers was really super lovely though! I mean creamy, full bodied, just enough crackers for the dip. I've been back since (sans camera) and had the pickled beetroot 'rawvioli' filled with cashew cream ricotta, which was also delicious. The rawvioli is 3 small pieces for $8 but you forget how FULL you get eating raw food. I had the rawvioli and rice balls and could barely walk out of the joint. I'm really impressed by the Vegie Bar, they know what they do, do it well, its ALWAYS packed to the rafters and they've slowly expanded as time has gone by. Its been open for 18 years and has to be one of the busiest kitchens in Melbourne, the amount of food they pump out hourly is quite remarkable. Go and check out the updated menu, I'm impressed.
Deets:
378 Brunswick St Fitzroy, 03 9417 6935 http://www.vegiebar.com.au/
$$:
raw dip, gyoza I think about the $9 mark for each dish
Other voices, other times*:
me:
one
,
two
vegan about town
healthy party girl
losing my love handles
melbourne vegetarian
melbourne food files
insatiably healthy
wheres the beef?
*I only did the first 3 pages of google, and chose to omit the carnivore blog. I've manually added Cindy and Michael as for some reason they do not come up in Google! (remember we had this problem before?). I always add the most recent of multiple reviews (from the same blog).