Here's how the story goes, I always wanted to make a wedding cake. Last year I offered good friends to do theirs. Wisely I organised a time 2 months before the date for them to come and test the cake, make sure it was up to scratch and also help me work to a goal date (I had never worked with fondant before). Well I was going through a stressful time and taking on a two tiered fondant cake was just a tad too ambitious. So I gracefully backed out but felt pretty shit about it.
Fast forward to this year where I off-the-cuff mentioned to friends who were having an informal wedding, that I would be happy to do the cake. This time around I was much more zen about it all. I knew I would do 'butter cream' frosting. I knew it would be a tall layer cake as opposed to freaking out about dowel etc. So this time round I was bizarrely calm. I had already
tested the cake recipe(s)
with the first attempt so that was down. All that was left was the test cake, 4 x 6 inch coconut passion fruit cakes.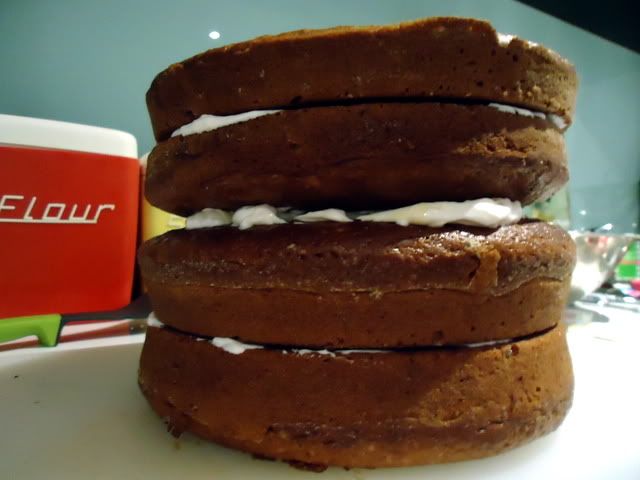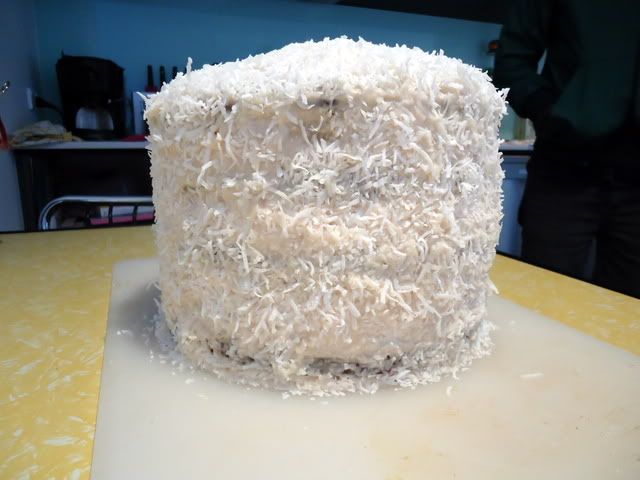 So I found out 2 packets of Soyatoo were not enough, I covered up the sides with coconut and thought it looked pretty good but wasn't sure what I was going to do when the real thing happened. I had the happy couple around to make sure they were ok with everything (and that they could actually cut into such a behemoth).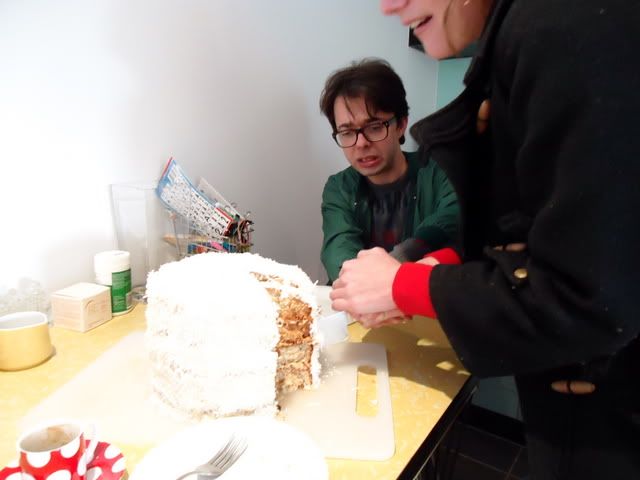 Now the cross section (mental note needed 4x amount of Soyatoo!)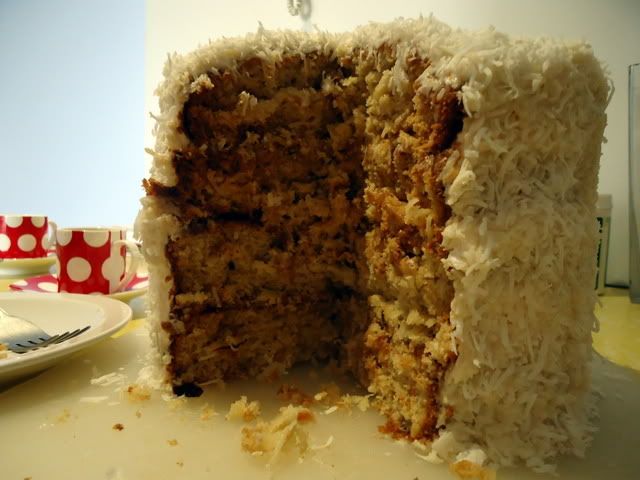 All in all it turned out well and I knew what I wanted to do on the day. I baked the cakes the night before, leveled, basted them with passionfruit syrup, wrapped them tightly and popped them in the freezer (frozen cakes are a DREAM so easily to handle and they defrost good as new) . The next day I went to the venue early and constructed the cake there. I went for pure coconut cream frosting, I kept the cans in the fridge for a couple of days, scooped out the cream from the top, whipped it with a bit of coconut water from the cans then piled it onto the cake (
this was my inspiration
).
Anxieties I had: I didn't want to keep it in the commercial fridge, so many smells for the cake to absorb. Wasn't sure how the defrosting cake was going to go, would it destabilise the coconut cream and make it leak? What if it dried out (the heating in the room was pretty full on). I left the cake at 1pm and got there at 5.45pm to find the cake a bit dried out and crackly. I had left a bunch of coconut cream downstairs (panicked when I realised they had moved it out of the fridge and it warm!!) so I did a top up just before the wedding began and it turned out fine. It didn't stop me stressing about it all night and keep checking on it. I did one final cosmetic top up just after the speeches (just before the bride and groom were supposed to cut the cake) and after about half an hour of waiting I went to check on the cake and it was GONE and so were the BRIDE AND GROOM. The groom had extreme tonsillitis and had had a penicillin injection the day before so a couple of drinks had left him absolutely legless and they had to stuff him into a taxi at 930pm. So no picture of the cake being cut by the happy couple! :( but this was the finished product and I got loads of compliments on it. Would I do it again? Yes! But I would figure out a non drying out alternative to the coconut cream (hard one).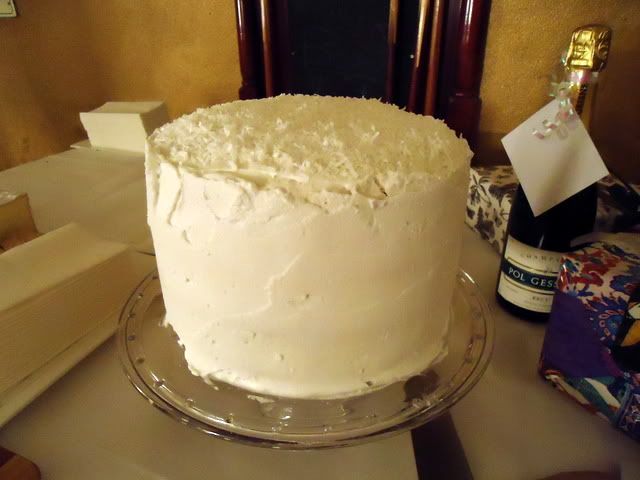 A big note: The vegan catering that the
Grace Darling
was *incredible*. Seriously incredible.