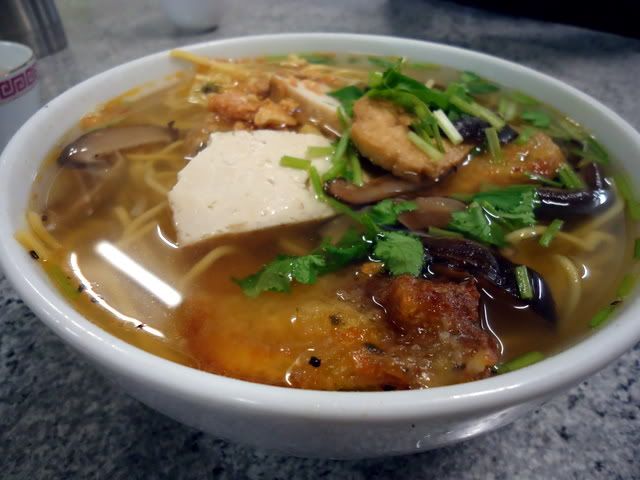 wonton soup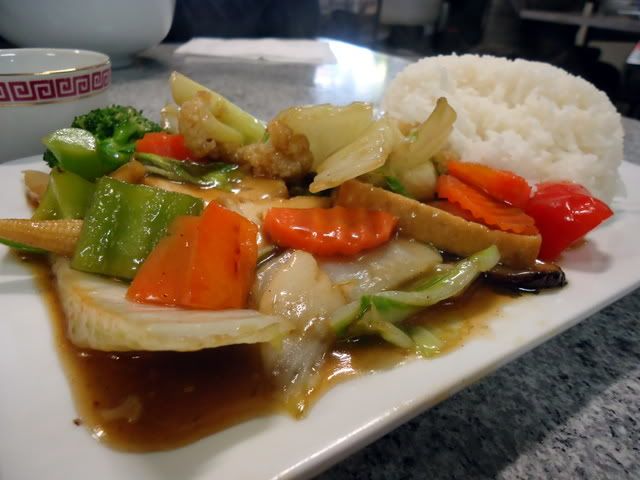 stir fried vegies and rice
I've been going to school in Footscray for over a year now and I finally made it to Bo De Trai!! I have to admit I had become a bit over Asian vegetarian restaurants as I can't really eat mock meat anymore (wheat intolerance) but I'm so sad I didn't go to Bo De Trai sooner! The descriptions on the menu are extremely minimal "wonton soup" so I wasn't sure what it included, if it had waaay to much mock meat etc so I went for the safe option of stir fried vegies and rice.
My vegies and rice were perfectly serviceable, lovely fresh vegies in a delicious stir fry sauce with some rice but I was floored with envy when I tried Josh's wonton soup. The broth! Absolutely unbelievable, packed with so much flavour I almost fell off my seat. I hate food envy, hate it! I'm busting to get back there so I can have a wonton soup of my own. Apparently the menu is a bit hit or miss, I look forward to eating my way through it and letting you know.
deets:
94 Hopkins St, Footscray
$$:
wonton soup was $9? and stir fry $11
other voices, other times:
where's the beef?
this is vegan melbourne
footscray food blog
- I look forward to going through this blog!
vicki vegan
foodscrazy
- AMAZING BLOG NAME!!
PS: 400 POSTS!!! WOOOO!
whoops - had to delete some posts, so 400th post COMING SOON