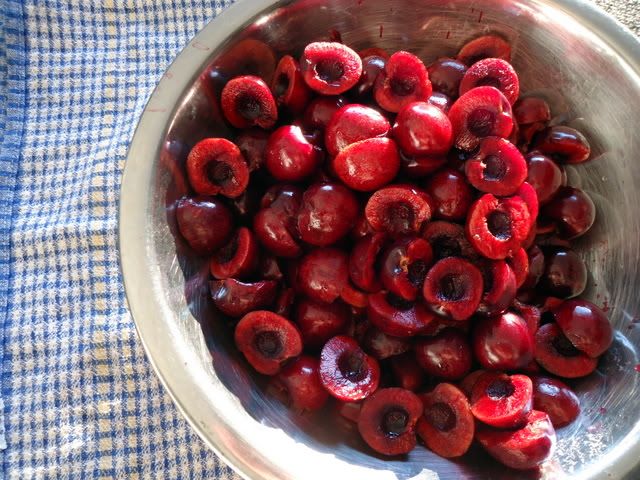 Cherry pie to make
Dale Cooper
blush.
On my recent trip
down a portion of the
Great Ocean Road
we stopped at a
servo
hawking $10 boxes of mangoes, cherries and other deliciousness and picked up some goodies. No prizes for guessing what I got. These cherries were unreal, so fresh, plump and firm, they didn't really need *anything* to make it into this pie. I kept it plain with a tiny bit of sugar and it was out of this world. That's damn fine cherry pie.
ingredients
1 kg of pitted, halved cherries
1/8 cup of sweetner (liquid or dry is fine)
2 x frozen pastry sheets, defrosted (short crust is best)
method
1. Preheat the oven to 180 degrees.
2. Line a 9 inch pie pan with a sheet of pastry. Mine doesn't make it all the way around so either use a smaller pie pan, roll out the pastry a little thinner or do what I do which is pinch a few strips from the other sheet and make up the difference. Prick the base of the pie about 10 times with a fork. At this point you can "
blind bake
" your crust, I didn't (I didn't have any baking paper) and it turned out ok for me.
3. Toss the pitted cherries in the sweetner and spread over the pie base.
Make the lattice top
, sprinkle with some sugar and bake for about 30 minutes or until golden brown. Serve with a traditional scoop of vanilla ice cream.