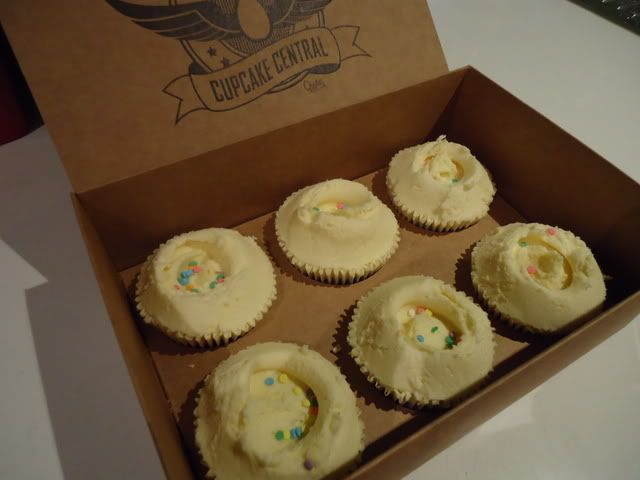 I love stories like Sheryl's
of Cupcake Central. Retrenched in the GFC from her IT consultancy job she took the leap and slowly developed her passion into a thriving business. Now having opened her second store in Melbourne Central, her amazing vegan/gluten free cupcakes are now more easily accessible to us! (her first store is in Hawthorn).
Pictured are the vanilla gluten free cupcakes. My dear friend Katie brought them along to book club and what a surprise. They are without a doubt the best gluten free cupcake I've ever eaten (BEATING MINE!!). The frosting was amazing too, not that crazy crisco frosting that vegan cupcakes mainly have and not the so over powering soy flavour like the cupcakes at
Babycakes
have. Moist, slightly dense and fluffy icing they were unreal. Cupcake Central
rotate 3 vegan gluten free
flavours daily I can't wait to try the others! Thanks Katie, you da bomb lady.
deets:
Hawthorn and Melbourne Central addresses here

$$:
$3.80 per cupcake
other voices, other times:
Joyce gave it a HOT and lead us to Sheryl