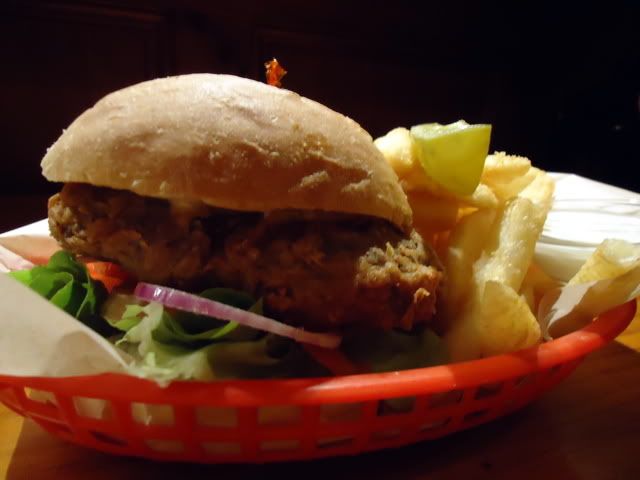 gas - oh - mee - ter the correct pronunciation folks. I think we're all aware of the newish darling on the vegan junk food dining scene. Its wheat, wheat, wheat and some wheat gluten so i was REALLY sick the day after eating there (my own fault) but damn it was soo good I couldn't stop! Gasometer is the venue for vegan drinks (the next vegan drinks I'm not sure when that will be) the staff are lovely and friendly, the vegan menu is extensive, the crowd full of tattooed hotties!
Pictured is the 'creole ckn burger' check out the size of that juicy patty! My favourite on the menu is the bbq tofu strips NOM (I have to admit it, brutal was way too brutal for me - and I LOVE CHILLI). If you haven't been to Gasometer where have you been? ps: their chips are the best I've eaten BEST. There's no excuse to go to the East Brunswick Club anymore! To check out what else they do have a look at the blog below.
deets:
484 Smith St, Collingwood

$$:
can't remember maybe $12?
other voices, other times:
vegan macncheez
vegan about town
veg in the west
in the mood for noodles