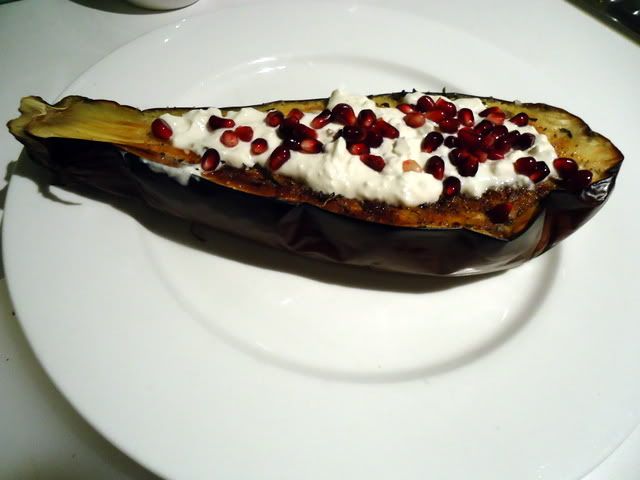 More
Ottolenghi love
. The delicate and simple flavours of this dish are a real knockout (can you expect anything less from Mr Ottolenghi?). Serve with loads of
little plates of deliciousness
.
recipe veganised from
Ottolenghis Plenty
.
ingredients
2 large and long eggplants
80mls of oil (I used less)
1 1/2 tsp of lemon thyme leaves
seeds from 1 pomegranate
1 tsp of za'atar (I used dukkah)
sea salt and fresh pepper
sauce
1/4 cup of vegan cream cheese (at room temperature)
1 tbsp of olive oil
1 tbsp of white vinegar
1 small garlic clove, crushed
pinch of sea salt
method
1. Preheat the oven to 200 degrees. Prepare the eggplants by slicing them down the middle through the stem (the stem is just for presentation - do not eat). Slice a diamond pattern into the eggplant flesh (be careful not to go through to the skin).
2. Cut side upwards, place the eggplants on a baking dish and brush them with the olive oil until it's all been absorbed. Sprinkle with lemon thyme leaves, salt and pepper. Roast for 35-40 minutes until the flesh is soft and brown. Remove from the oven to cool.
3. While the eggplants are cooking make the 'buttermilk' sauce by combining all ingredients with a whisk. Whisk until smooth, if your sauce is not thin enough add a small dash of water.
4. Serve warm (Ottolenghi likes its cold/room temperature) with a generous lather of buttermilk sauce, sprinkled with the pomegranate seeds and za'atar. Drizzle with olive oil and a final sprinkle of sea salt.
For the vegetarian version, Cindy and Michael has blogged about it
.