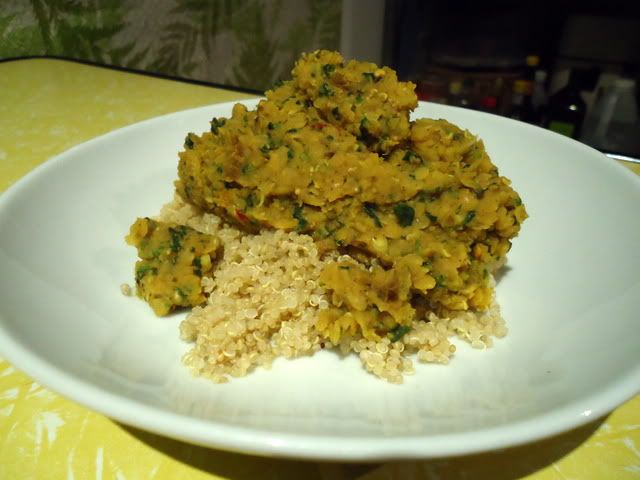 I assure you this dhal tastes far better than it looks. It's one of those things that's just impossible to photograph nicely (thrown DOWN DONNA HAY). With the impending arrival some months ago of my flatmate and my kitchen having been quartered in the new house I had to get rid of my enormous stock pile of ingredients. So, I went on a dhal binge (my colon thanked me repeatedly). Red lentils, yellow lentils and split peas were all mashed into this yummy recipe. I find myself going to
taste.com.au
a lot. They have such great basic recipes and the user ratings really help. Ok so I lied, taste.com.au have a pretty nice photo of dhal. Just waiting to get a DSLR (cmmoooon December) and then I will be cooking with gas.... or taking photos with a DSLR are it were.
I want to experiment with this recipe so so much, like make it a little thicker and mould into patties, crumb, fry and shove into a burger with mango chutney, use as a ravioli filling or thin out and use as a dip with some vegan raita. I just need some time to recover.
recipe from
taste.com.au
ingredients
1 cup (300g) red lentils, rinsed well
3cm fresh ginger, sliced
2 bay leaves
1 cinnamon stick
3 cups of water
2 tbs of vegan margarine
1 large onion, finely chopped
2 cloves garlic, crushed
2 tsp turmeric
1 tsp cumin
1/2 tsp garam marsala
1/2 tsp chilli flakes
2 tbs lemon juice
1/2-1 tsp salt
1 tbs chopped coriander leaves
rice or quinoa to serve
Naan bread or pappadums, to serve
method
1. Bring the lentils, ginger, bay leaves, cinnamon and water to the boil, then reduce the heat to a simmer for about 10 minutes. Give it a little stir often to prevent it sticking to the bottom. Bin the ginger, bay leaves and cinnamon.
2. In a large fry pan saute the onions in the nuttelex until they go translucent (medium high heat). Stir in the garlic, turmeric, cumin, garam marsala and chilli flakes and cook for a further minute or until fragrant. Stir in the lemon juice and season to taste with salt.
3. Mix the lentils in with the spice mixture. Cook on high, stirring constantly to reduce any water left. Stir in coriander and serve hot with naan bread or pappadums.