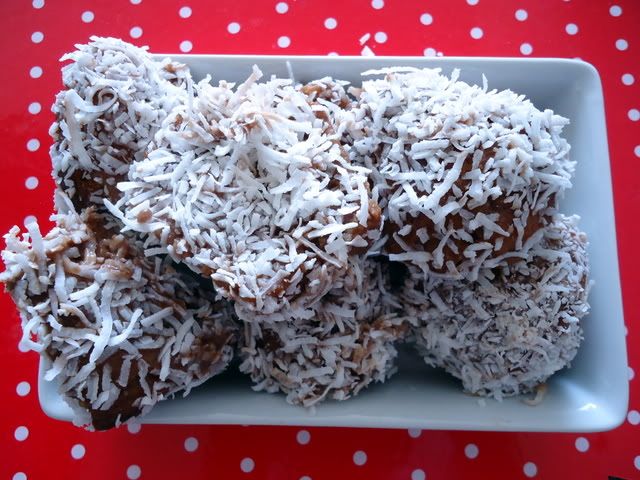 Lamingtons! The Aussie favourite, chocolatey, spongey, coconutty goodness. The recipe is pretty standard wherever you look around. Sponge cake with a chocolate icing and some coconut.
recipe
adapted from benno and lara's aussie lamingtons

ingredients
1 tablespoon vinegar
1 1/2 cups plain soymilk
2 cups plain flour
1 teaspoon bicarb
pinch salt
1 cup sugar
1/2 cup oil
1 tsp vanilla extract
1 tsp rosewater/coconut or almond essence
icing mixture recipe
2 cup icing sugar
2 tbsp cocoa powder
2 tsp Nuttelex
2 tbsp soy milk
1 tsp vanilla essence
hot water
desiccated coconut
method
1. Preheat over to 180 degrees.
2. Create the buttermilk by combining the soy milk and vinegar in a cup and leaving to curdle.
3. Combine all the dry ingredients in a large bowl (flour, sugar, bicarb, salt).
4. Add the wet ingredients to the dry and mix well (vanilla, rosewater essence, buttermilk mixture and oil).
5. Bake lamingtons in small cupcake pans or friand pans, filling them 3/4 full. Bake for 25 minutes or until a skewer inserted into the middle comes out clean.
6. Freeze lamington cakes overnight.
7. Make icing mixture, combining the icing sugar, soy milk, vanilla and nuttelex in a large bowl (I used a lunch box). Add a tsp of hot water at a time until icing reaches desired consistency. The icing should be quite thin.
8. Fill another bowl with coconut for coating. Using 2 forks in each bowl dip the sponges in the icing, let it drip off then coat with the coconut. Settle in the fridge for half an hour.
notes:
I wanted extra chocolatey lamingtons so I soaked them in the chocolate icing for quite some time. I think these would be great with some booze like kahlua or frangelico.