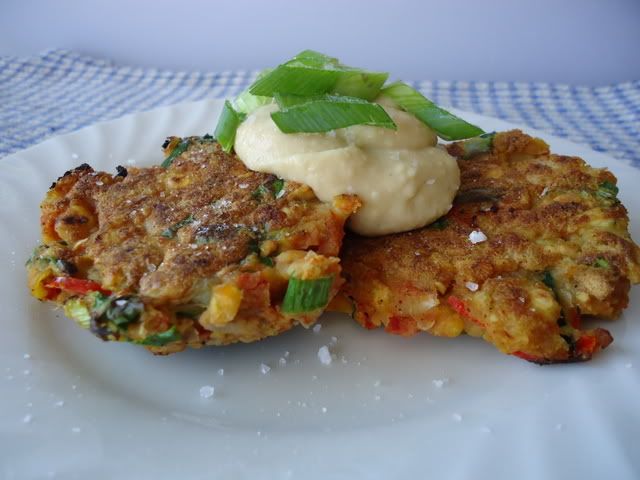 As part of the
2 year anniversary
of
Planet VegMel
all the contributors have been remixing everyone's recipes. I'm of course late to the party but used the birthday picnic on Sunday to finally get a recipe done!
Cindy and Michael's mock crab cakes
last week really took my eye with lots of fresh herbs and spices I had to make them immediately.
Things I would do differently, add salt! But you know me I'd salt a salt lick. Also I would swap out one of the chickpeas cans for more potatoes. Otherwise these are delicious, I served with roasted garlic aioli (recipe currently in test for the book) and a sprinkle of spring onions. I think these would be out of this world with vegetarian fish sauce. YUM YUM.
ingredients
(Where's the Beef originally adapted from a recipe for real crab cakes in
Sri Owen's Indonesian Food
)
2 x 400g cans chickpeas
225g waxy potatoes, peeled and boiled until tender, then mashed
3 tablespoons finely chopped spring onions
3 tablespoons finely chopped flat leaf parsley
2 tablespoons finely chopped kaffir lime leaves
1 tablespoon finely chopped lemongrass, inner part only
1 teaspoon finely chopped ginger
1/2 teaspoon ground turmeric
1 teaspoon chilli flakes
1 teaspoon ground coriander
1 teaspoon baking powder
2 tablespoons cornflour, made into a paste with 2 tablespoons water
vegetable oil for shallow frying
method
1. Peel and boil the potatoes for 15 minutes or until tender.
2. Whilst the potatoes are boiling prepared the rest of the mix. Drain, rinse and lightly mash the chickpeas.
3. Add all the fresh herbs and spices (minus the cornflour), combine well.
4. Lightly mash the potatoes and combine with the chickpea mixture adding the cornflour slurry. Form into patties and refrigerate for at least 2 hours (I did mine over night).
5. Shallow fry on high in a small amount of oil.