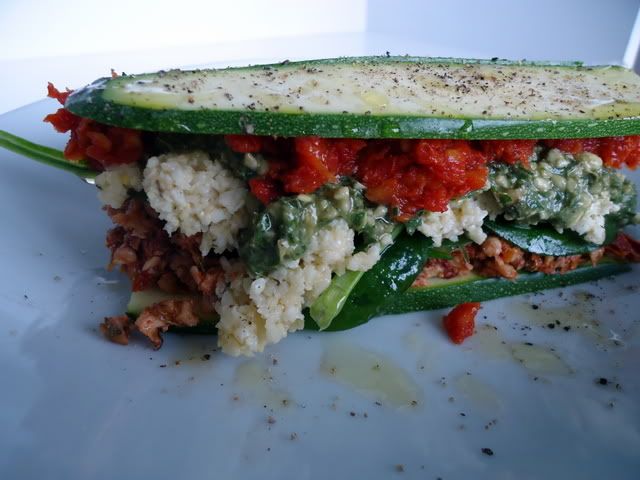 I've been meaning to experiment with more raw food. I had a dinner party coming up and couple that with discovering the
Russell James'
absolutely amazing website I did the whole party raw. First problem was I didn't read the recipe properly and the original serves 9 people! (who does that?) so I have halved the quantities here. Also I did a 4 course raw meal which took almost 5 hours to prepare so probably won't go that far again OR will prepare the dessert the day before so I'm not spending so much time in the kitchen. It was nice on such a hot day to not have the oven on. Small servings of each went a long way and these core recipes taught me so much about raw food. Hit Russell James' website, sign up to his newsletter and get the free recipe book.
ingredients
walnut meat layer
3/4 cup walnuts, soaked 1 hour or more
1/2 cup sun-dried tomatoes, soaked for 1 hour or more
1 tbsp dark/brown miso
2 tsp dried oregano
2 tsp dried sage
2.5 tbsp nama shoyu (I used tamari and would use less next time)
1/4 tsp cayenne pepper
2 tbsp olive oil
1 tbsp agave nectar (I used maple syrup)
1 tsp sea salt
tomato sauce
3/4 c sun dried tomatoes, soaked for 1 hour or more
1 soft dates
1 cloves garlic
1 cup tomato, seeded and chopped
3/4 tbsp dried oregano
1/2 tsp salt or to taste
1 1/2 tbsp olive oil
1 tbsp lemon juice
basil pesto
I like my recipe better so use this one.
nut cheese
1 cup macadamias
1/2 cup pine nuts
1 tbsp lemon juice
1 tbsp nutritional yeast
1 yellow capsicum
2 tbsp fresh parsley
1/2 tbsp fresh thyme
1 tsp salt
1⁄4 cup water as needed
spinach layer
3 cups torn spinach
1.5 tbsp olive oil
1 tsp sea salt
lasagne sheets
5 medium zucchinis
method
1. walnut meat layer - pulse ingredients in a food processor till combined but still quite chunky.
2. tomato sauce layer - process in food processor until smooth.
3. nut cheese layer - process all ingredients until fluffy using as little of the water as possible (I found I needed to use it all).
4. spinach layer - toss the spinach in the salt and olive oil and leave to marinate for an hour or more (the spinach should wilt).
5. assembling the whole lasagne - Assemble individually on plates. Slice the zucchinis as thin as you can on a mandolin. Build the lasagne with zucchini, walnut meat, cheese, tomato sauce, pesto then spinach on top. Top with more thin lasagne sheets. Refrigerate to firm up.
notes:
Next time I will add more lasagne sheets into the process. I'm still getting the hang of my new mandolin so the sheets are too thick.