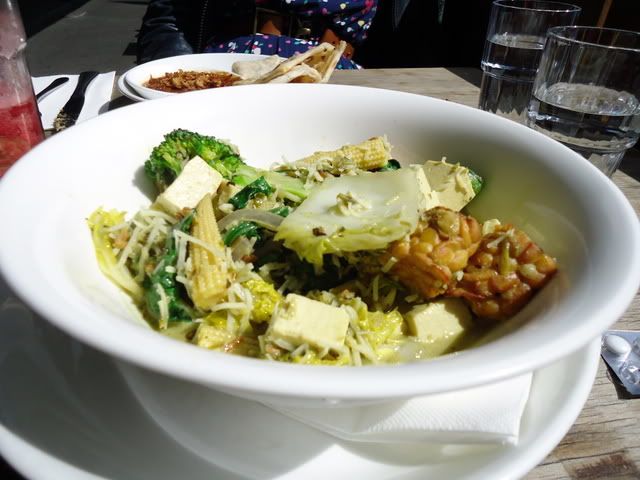 So it was about May when I had my
last meal at Tom Phat
. Six months down the track I decided to give it another go. It wasn't as *appalling* as it was the last 4 times but it was nowhere near *neutral* either. First up the waiter was like a distracted ferret, showed us to our table outside, told me he would check if the scrambled tofu could be made again (it's not on the menu anymore) and only returned once we had waited for what seemed like an eternity and had already gone inside to order our food.
He returned only to lay out the cutlery and while I was asking a question WAS TEXTING ON HIS iPHONE. Seriously. Our food arrived and it was just what I needed actually, bland and full of vegies (the tofu and tempeh salad - with loads of vegies and a light coconut milk broth). If it was any other day I would have been disappointed. The vegetables were overcooked and the broth was too hot to eat. After having empty plates for about 20 minutes someone came to clear them and I ordered a coffee. It came out luke warm but I just downed it because I couldn't be bothered going inside and asking for another one.
Overall I won't be going again for another 6 months. It's a real shame, Tom Phat were so good, like remarkably good. Once the "good chef", as we called him, left it went seriously down hill (in all honesty it was only him because on the days he wasnt there the food was average). All the staff stopped caring, there is no pride anymore. It's a Derryn Hinch shame.
other voices, other times:
I have only included reviews from 2011. I think that's a fair parameter, though most of them are not vego.
where's the beef did a VERY comprehensive post a few weeks back
I'm so hungreee
vegan about town
brunch addict
tune into radio carly
pampered housewife
mochii eats