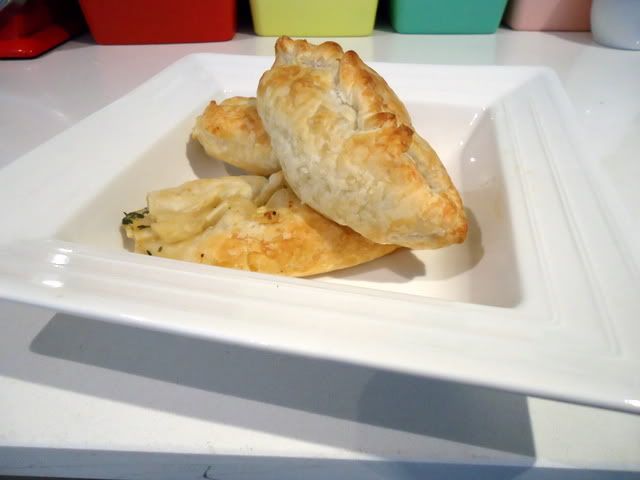 I finally rolled of my butt to make the staple Maltese food PASTIZZIS! I was *supposed* to make them for a Byzantine themed bbq on Saturday but after Boozy McFalldown went on the rampage it kind of blew my day out (not kind of - entirely). BUT! I had all the ingredients and once my raging hang over had misted slightly I was craving GREASE. That's how easy these are to make, I made them so revoltingly hung over I could barely stand.
You have to trust me sans cross section that both kinds are in there but I made the traditional curried pea and spinach/ricotta. There's only 3 in that plate for a few reasons:
1. I ate almost everything that came withing reach
2. I found it difficult to get the hang of folding them, these were the final 3 that looked ok
ingredients
1 package of defrosted puff pastry (Borgs brand for authenticity)

curried pea filling
(recipe from
Taste.com.au
)
yields 8 large pastizzis
175g dried green split peas
1 tablespoon olive oil
1 small brown onion, finely chopped
2 garlic cloves, crushed
3 teaspoons mild curry powder
1/2 tsp of salt
1. Rinse peas, pick out any wonky looking ones and cover with cold water in a saucepan. Bring to the boil over high heat then reduce to simmer uncovered, for 30 minutes or until tender. I found I had to top up the water a couple of times so keep an eye on it.
2. In a bit of oil fry up onion and garlic until softened then add curry powder. Combine well then add the peas and 1/4 cup cold water. Cook on medium heat until liquid has evaporated. At this point it just looks like a bunch of split peas and onion, when they cook in the pastry they soften down to that puree you're familiar with.
spinach ricotta filling
(recipe from The
Voluptuous Vegan
)
yields 8 large pastizzis
300 gm of tofu (silken)
1 tbsp of olive oil
2 tbsp fresh lemon juice
1/2 tsp salt
1 tsp of light miso paste
handful of steamed spinach (or I used 1/4 block of frozen)
1. Whizz the mixture in a food processor. Voila. (I actually mashed with a spoon)
assemble
1. Preheat oven to 220°C (200°C fan-forced).
2. Cut frozen pastry sheet into 4 squares. Blob about a tablespoon of your mixture in the middle, you'll learn how much is enough quite quickly. I then pinched the ends (pointy part of pastizzi) and then sealed it by rolling over the pastry on top of each other at the seam. You'll get the hang of it. Spray with a bit of cooking oil or brush with soy milk.
3. Bake for 20/25 minutes until golden.
notes:
I'm still having the
water release issues from the tofu ricotta
(probably because I did nothing to try and change it this time) I still think if you cook the tofu mixture in a saucepan until it releases all that water and drain it off that will fix it. Will keep you updated, till then either try that method or have soggy bottomed tofu ricotta pastizzis.