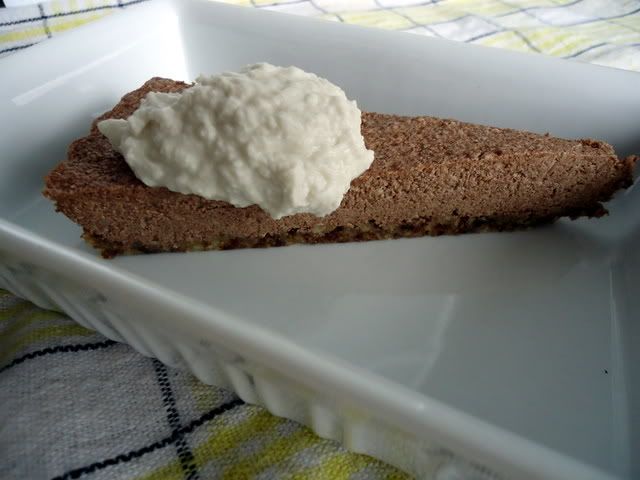 The dessert from my raw
dinner
party
. This torte had many sauces and many steps and by the end I couldn't be bothered! So I just whipped some coconut cream and left it at delicious that.

ingredients
yield 1 9 inch pie
the crust
1 1/2 cup pecans
3/4 cup raisins, roughly chopped
2 tbsp coconut oil/butter
1 tsp vanilla extract
1 tsp cinnamon
Pinch salt
chocolate filling
2 cups raw cashews
1 cup water
2 cup cacao powder
(I used cocoa powder)
1 1/2 cup cacao butter, grated
2 tbsp vanilla extract
1/2 cup agave nectar
(I used diluted maple syrup)
1⁄2 tbsp lemon juice
coconut cream
1 400gm can of coconut cream
(no name brands tend to have the most "cream")
dash of vanilla
method
1. Refrigerate the can of coconut cream for as long as you can (at least a few hours). Open up and scrape the coconut fat from the lid and scoop as much fat from the top of the can as possible. Whip the fat and get it as smooth as possible, adding the vanilla and a couple of tablespoons of the coconut milky water to thin it out. Whip it for a few minutes until light and fluffy and chill while you are making the pie.
2. Make the crust by pulsing all the ingredients until it resembles a crumb. Press into the base of your pan.
3. Make the filling (I melted/softened the cocoa butter in the sun - you could soften over some warm water) by blending the cashews, water, vanilla, agave nectar and lemon juice until smooth.
4. Add the cacao butter and cacao powder and blend to combine.
5. Smooth the chocolate mixture into the pie base and refrigerate to set for at least 2 hours. Serve with a dollop of coconut cream.