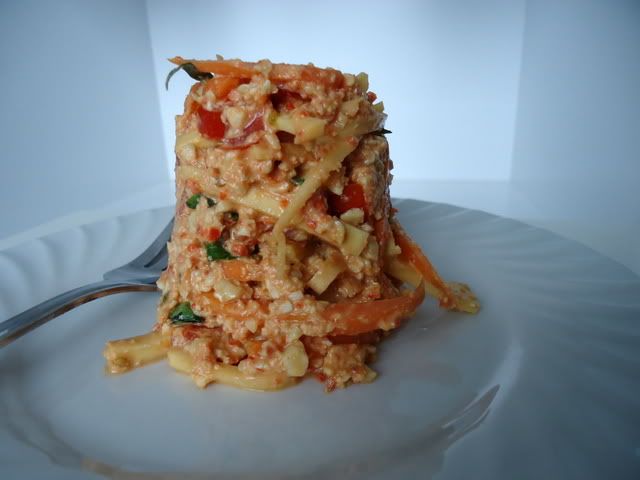 Another winner from the
Raw Chef - Russell James'
free e-book. I really loved this dish, it was quite light (I find a lot of raw dishes to be heavy) and was really easy to prepare. I'm still getting the hang of my mandoline so my 'linguine' was thicker and harder to handle but it still tasted delicious and even better the next day. The kicker? I have found a way to eat parsnip that I LOVE!
ingredients
yields 4 dishes
linguine
4 medium carrots, peeled
4 medium parsnips, peeled
1/2 tbsp salt
15 large basil leaves, sliced thinly
2 tbsp dried italian seasoning
2c baby plum tomatoes, cut into small sections
macadamia mozzarella
3/4 cup macadamias
3/4 cup cashews
1 tbsp tamari
2 tsp lemon juice
1/4 cup water
1 tbsp nutritional yeast (optional)

capsicum sauce
1/2 cup pine nuts
1 capsicum
1/2 tbsp lemon juice
1 tbsp tamari
1 tbsp agave (I used maple syrup)
method
1. Slice the carrot and parsnip thinly on a mandoline (or make spaghetti on a spiraler). With the thin strips slice them vertically to make linguine. Combine linguine with salt and let stand whilst you make the mozzarella.
2. Combine mozzarella ingredients in a food processor and blend until creamy. Add extra water if needed to help blend, the mozz should still be thick.
3. Combine all the capsicum sauce ingredients in a food processor until liquified. Add extra water if needed to get a sauce consistency.
4. Rinse the linguine and dry in paper towel or a salad spinner. The linguine should be softer and appear 'cooked'. Toss with the remaining linguine ingredients.
5. Mix in the mozz with the linguine until well combined.
6. Serve with the capsicum sauce drizzled over the stack.