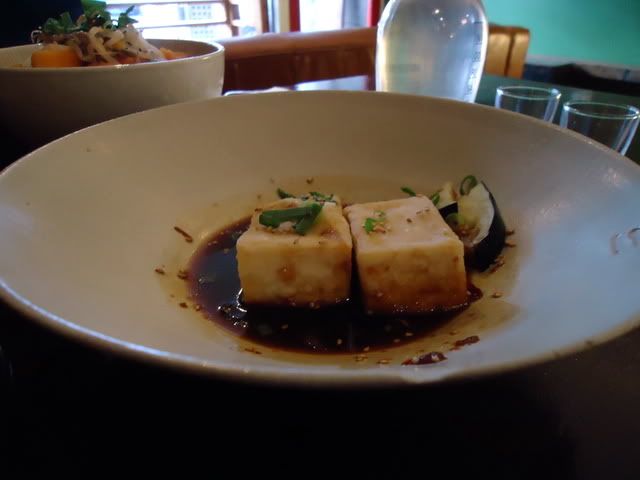 agedashi tofu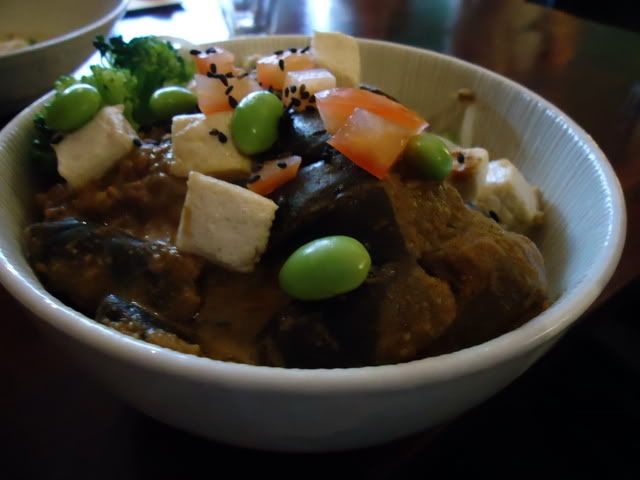 dengaku don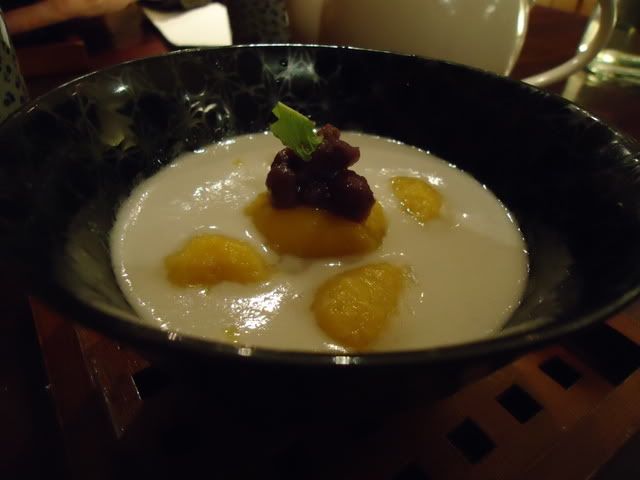 pumpkin dumplings in coconut cream
On a rainy night where bickering back and forth as to where to eat lead us to places that were closed we became glad parameters were set for us. We were on Smith st, hungry, a little damp and slightly cranky. Although I think Wabi Sabis food is great I also think it's too expensive. So we went to Wood Spoon Kitchen after recommendations from quite a few people but namely my foodie vego twins
Cindy and Michael
. Wood Spoon Kitchen was actually only slightly cheaper but the food lacked the same quality.
The agedashi tofu was delicious, all those things you want crispy, salty and creamy. My dengaku don wasn't great, the nasu dengaku sauce I'm used to is a lot more flavourful, this was limp and brown is the only word I can think for it. The vegies were all a little too mushy and so was the rice. My dessert of sweet pumpkin dumplings in coconut cream was delicious though and saved the meal.
Wood Spoon get lots of points for having a well labelled menu (vegan/vegetarian) and the restaurant is great, spacious with super friendly staff. I would definitely go back and try a few different things but for value for money and consistent quality I would keep going
back to Yamato
.
deets:
88 Smith St, Collingwood
$$:
agedashi tofu $8.90 nasu dengaku don $15.90 dessert $7.90
other voices, other times:
jetsetting joyce gave it a HOT
wheres the beef?
melbournes bargain foodie
agrees with me about the nasu dengaku sauce

vegerati raves
suck my radish

fat feminist foodie