stuffed tofu pockets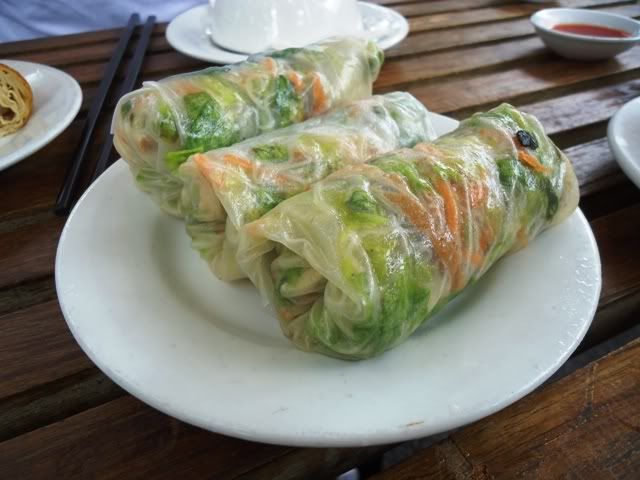 rice paper rolls
stuffed duck rolls
curried buns
pigs in blankets
spring rolls
Bodhi was one of the only vegetarian restaurants in Sydney for SO LONG. I first went to Bodhi in 1997 and loved it back then. Everytime I go home I have the intention of going to Bodhi but never seem to get there! (and am usually in the city on my own, Bodhi is to be enjoyed with at least another person to share dishes). Clare and I were staying in Surry Hills and stopped there for yum cha on the way to the AGNSW. I dont remember it being fully vegan the last time I went there but it is now and its a speechless luxury to be able to sit there as they roll out dish after dish after dish of vegan food for you to choose from.
The food was AMAZING. All delicious and fresh and readily available (my favourite). The curry buns, tofu pockets and spring rolls were definitely the highlight. The duck rolls weren't that great, I wouldnt order them again. The other dishes were also amazing. Would happily eat the rest many times over.
A lot of people find Bodhi too expensive. I don't find that at all. We ate until stuffed and took home a container of leftover food as well (you can do that in Sydney), we both drank a glass of wine and the total bill plus small tip came to $60. I think that's a bargain.
deets:
lower mezzanine level of Cook and Philip Park, 2-4 College St Sydney
web:
http://www.bodhi.id.au/
$$:
as said all that food plus 2 glasses of wine $60
other voices, other times:
vegaroo
vegan about town
I dream in chocolate
eat more vegies