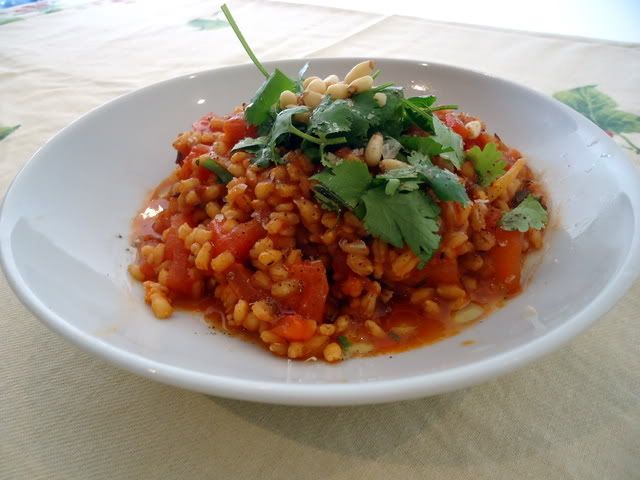 I've been kind of obsessed with pearl barley lately. Just adding handfuls to soup here and there. It's so delicious and toothsome.
I wondered aloud whether it would make an AMAZE risotto
and I got flooded with responses!!
My favourite (of course) featured an Ottolenghi link
. This was made THAT afternoon. So delicious and exactly what I needed! I've modified the recipe quite a bit but I'm sure you'll love it.
recipe modified from Ottolenghi's Guardian column
ingredients
1 tbsp olive oil
1 whole head garlic, cloves separated and peeled
5 large fresh tomatoes
3 tbsp tomato paste
1/4 tsp smoky paprika
a few shakes of tabasco
1 tsp dried thyme
2 strips fresh lemon zest (sliced thinly)
1 tsp caster sugar
1 tsp salt
1/2 cup pearl barley, well rinsed in cold water and drained
1 cup of water
chopped coriander to finish (to your taste)
1 tbsp of pine nuts
method
1. Plop tomatoes into a saucepan of boiling water for a few minutes until their skins start to break. Put tomatoes into a sink of cold water and leave for a few minutes their skins will start peeling away. Rub off the skins and chop tomatoes roughly.
2. In a large saucepan or cast iron pot, heat the olive oil on high and fry garlic cloves until they start to take a bit of colour.
3. Add the tomatoes, tomato paste, paprika, tabasco, thyme, lemon zest, sugar, salt, pearl barley and 1/2 of the water to the pot. Simmer for about 40 minutes until the barley is 'al dente' chewy but cooked. Make sure there is always enough water to cook the barley adding a bit and giving a stir every now and then. There should still be a bit of liquid at the end (see photo).
4. Finish the risotto off with fresh coriander, a sprinkle of pine nuts, a drizzle of olive oil and some salt and pepper.