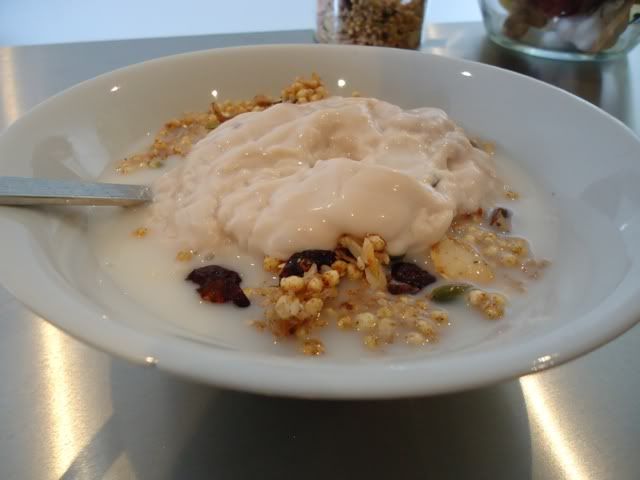 On the morning of my birthday Clare invited me over to have breakfast in her garden. She has always been so supportive of my weird food stuff, phases and cleanses. So of course in that vein she had made me gluten free muesli with yoghurt, fresh fruit and rice milk. She is, as you can imagine, a total gem. This muesli is seriously delicious. Get it into your gob.
ingredients
3 cups puffed millet
1 cup shredded coconut
1/2 cup pumpkin seeds
1/2 cup macadamia
3 tbsp macadamia oil
3 tbsp rice syrup
1 cup cranberries
1/2 cup sunflower seeds
1/2 cup flaked almonds
method
1. Combine puffed millet/shredded coconut/pumpkin seeds and macadamias with the rice syrup and macadamia oil.
2. Spread out on baking tray (layer about 1 inch thick) and bake at 180 degrees for 10 minutes, turn with a spoon and bake for a further 5 minutes.
3. Once out of the oven add the cranberries, sunflower seeds and flaked almonds.
4. Leave to completely cool before storing.