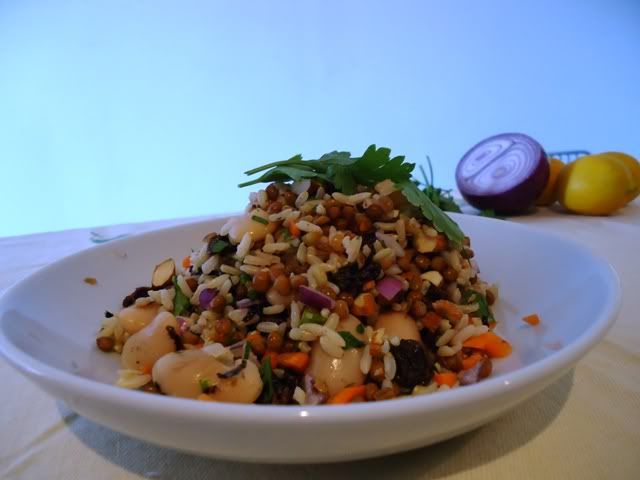 I think I should rename this super foods salad. It has so much goodness it's ridoink. Not to mention it's quick to make and amazingly delicious. I make a batch of this on the weekend and take it for my lunch over the next couple of days. It gets better as it gets older because the sultanas (or cranberries) plump up with the moisture. It's riffing on the same theme as all my other
salads
, that's because there is a method to my madness. Protein, carbohydrates and the 5 tastes. YUM YUM.
ingredients
1 cup brown rice, cooked (yields about 2 cups)
1 tin brown lentils, rinsed
1 tin butter beans (or chickpeas), rinsed
1/4 cup sultanas
1/2 cup almonds, roughly chopped
a small handful of parsley, roughly chopped
1 small carrot, diced finely
1 tbsp of shredded seaweed
1/4 small spanish onion, finely diced
pinch of salt
method
1. Combine! I finish it in many ways, sometimes just with sesame or olive oil. Other times with kecap manis. At the moment I am sprinkling with Maldon smoked sea salt and lemon olive oil (OMG AMAZING).