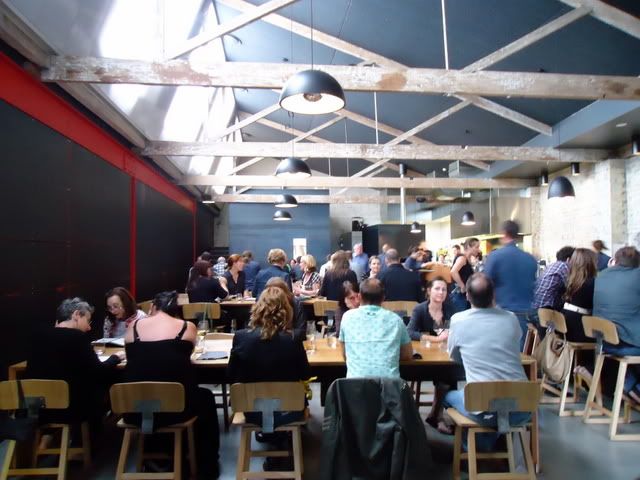 the large, cavernous space
wood-grilled reine de france lettuce hearts with soaked currents and puffed spelt ($14)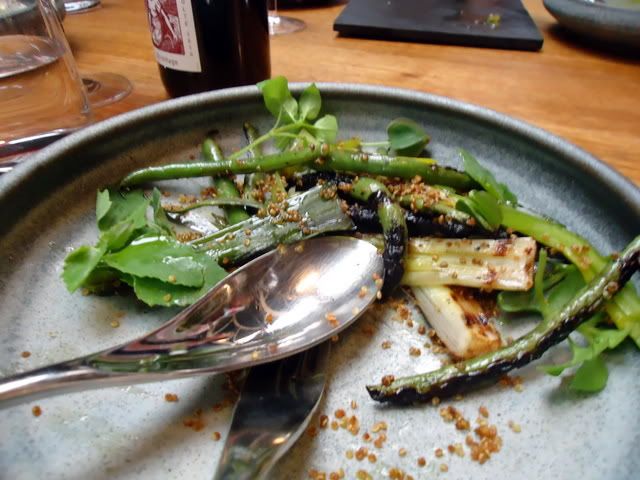 grilled young leek with French beans and toasted quinoa ($18)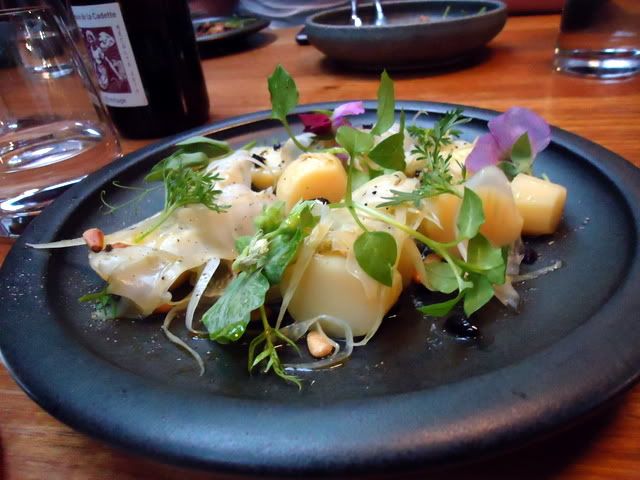 confit kipfler potatoes, pea tendrils and flowers($19)
You keeners may remember
I headed down to Hobart
a couple of weeks ago to go to MONA and FOMA and basically frolic my way around Story Book Village (it's what I call Hobart). After having a huge day at MONA I hit my hotel got changed and met up with
Liz
(and her partner Jeremy) and
Cindy and Michael
for a very exciting nom fest at
Garagistes
.
Garagistes is the breathless (not really new) darling on the Australian dining scene, opened by Luke Burgess (ex Noma) and his partners Katrina Birchmier and Kirk Richardson. The menu is extremely interesting, the wine list mainly French. I would have to say I think I had the wrong idea from the get go of Garagistes, I had heard it was very Noma influenced, foraged based and the menu changed daily. So I was assuming it to be 'hyper local' which is why I was disappointed by the wine list (though my stomach wasn't).
That wrong idea also extended to the food. With a no bookings policy and being strongly recommended by previous diner
Lisa Dempster
to just show up and receive the magic I had much higher expectations than was delivered. Again, not Garagistes' fault though I did contact them via twitter and Liz emailed to give the heads up that a vegan was coming in on the day. It was a complete surprise to them when I mentioned it so I guess communication fail. Perhaps a phone call next time.
Having said all that for a restaurant of this calibre I expected more than just meals with the non vegan ingredients removed. The food however was astounding, absolutely delicious but I did kind of have that cheated feeling, especially when I did try to contact them in two different ways. So either this is how they cater for vegan diners (that's fine it just doesn't suit me) or they would do things differently if they had better notice. Either way the next time I'm in Hobart I will definitely go back.
Garagistes is an experience beyond the food (as you can tell we were already pished and too engrossed to remember to take photos of the second dish), the space is huge and not crammed in with diners. Everything is served at a leisurely pace with magic genie service the whole way. We all had a great meal with great wine, my eating buddy Garret and I walked out paying $80 each with a bottle of wine between us so you can't say it's expensive by any stretch of the imagination (and Garret had 2 other small dishes). Garagistes, I'm looking forward to a return trip!
ps:
Kylie Kwong was eating at the bar. I almost hyperventilated THE ENTIRE TIME.
deets:
103 Murray st, Hobart Tasmania
web:
garagistes
$$:
$160 for 3 medium and 2 small dishes and a bottle of wine
other voices, other times:
where's the beef - documented our meal from the vegetarian side
rita's bite
foodtrail
reminiscence of a food tragic
redheaded travels