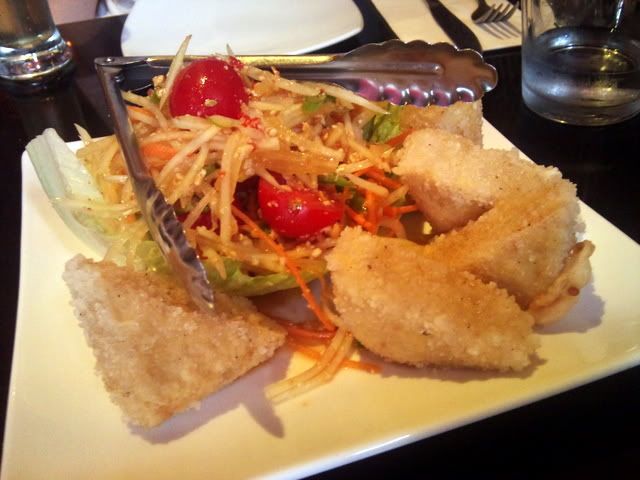 salt and pepper tofu served with green papaya and peanut salad $15.50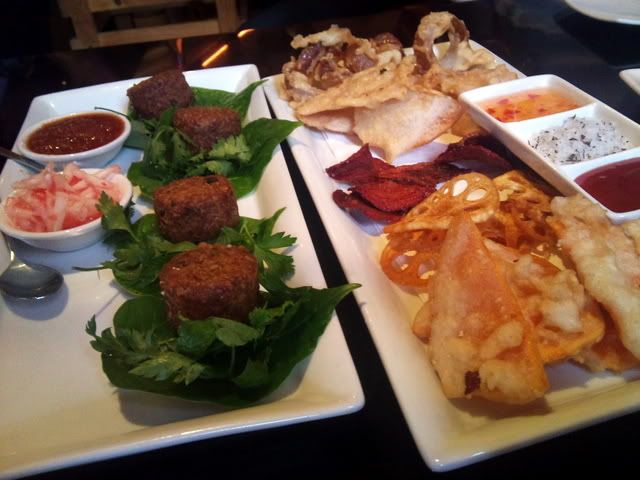 yulli's falafel plate $15.50 and mixed chip plate 13.50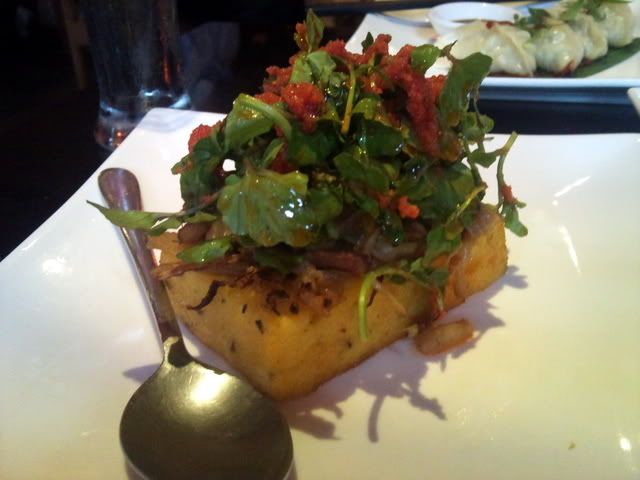 panfried polenta $17.50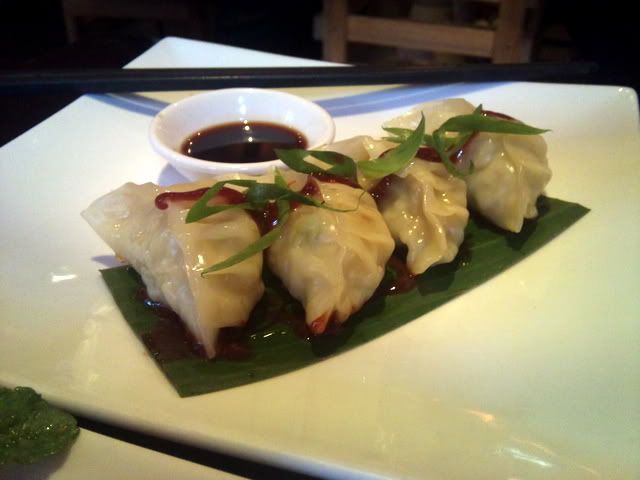 steamed ginger and leek dumplings $12.50
More often than not if I'm just ducking out to get a quick meal I'll pack my wallet, my phone and my moleskine into a book bag and take off. This always means no camera. No camera means I sometimes have to shoot amazing meals with my camera phone so apologies for the photos (it also means it takes me a while to remember that the photos are on there).
In
December you may remember that I went to Sydney for some theatre
, art and eating. Being from Sydney it was the first time I'd stayed in a hotel in town and didn't see my family, I was purely a tourist. I have to say I enjoyed this experience VERY MUCH. I also enjoyed staying at the bottom of Surry Hills and being able to walk everywhere. Sydney has really started to change for the better, or should I say go back to how it used to be in the 90's. Great little cafes and bars are popping up all over town. With my nose held high however there's always very little around Australia that makes me think we don't have it better in Melbourne. Yulli's (
along with Bliss Cafe in Adelaide
) is the opposite where I think that they have something better (or at least on par) with Melbourne.
Yulli's is *amazing*. The food is incredible, the staff are *so* lovely and funny, the space is warm and inviting but still has that cramped terrace Sydney feel (which is key nostalgia for me). We ate and drank all night, they have a dedicated vegan menu and with the french windows thrown open on a balmy summers eve I felt wistfully nostalgic for my teenage years and the city that birthed me into a perverted adult.
Yulli's is a must on your trip to Sydney. They are apparently getting a
food truck
really soon as well. Is this it? Is this what I'm looking for? A Sydney that mimics all the acceptable parts of Melbourne but retains it's sleaze? Probably. I don't care if both cities try and morph into the other, I think both are wonderful and could do with cultural aspects of each.
deets:
yulli's 417 Crown Street Surry Hills
$$:
$74.50 for 3 people and we ate till comfortably full
other voices, other times:
simon food favourites
the unbearable lightness of being hungry
my darling darlinghurst
not quite nigella
nom it like it's hot
where's the beef?
vegaroo
cupcake kitteh