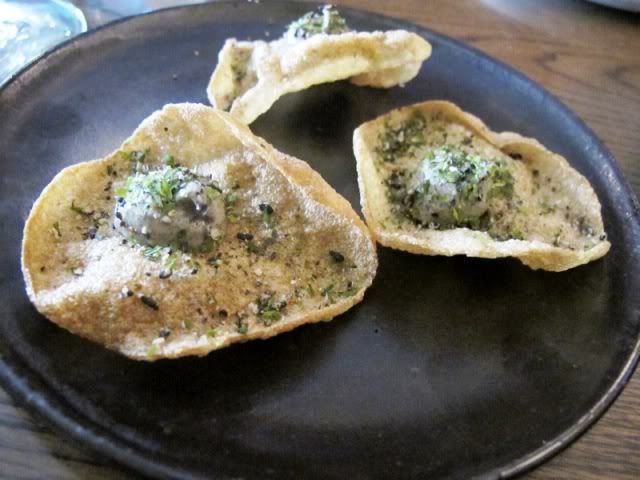 seaweed crackers with smoked eggplant mousse
I have this theory. That the average kitchen can produce me a great vegan meal and that the average chef is open to and excited by cooking something different. Y'know within reason, I'm not going to expect a great vegan meal at a Texan bbq place or a full on traditional French restaurant. So I have teamed up with Claire from
Melbourne Gastronome
and we're going to be hitting a lot of fancy pants restaurants around town. I'd already had a mind blowing vegan meal at Cutler about 2 years previous so I knew they were ok with it. However we always call and check whether the kitchen is amenable and then I start licking my chops waiting for the day.
Claire and I did a 'dry' run on Cutler a few weeks previous, which really means we got slammed on Manhattans whilst picking at some olives, tomatoes and bread. Boy howdy can Cutler make a mean cocktail (hollar Lachie). So we were born ready by the time Friday rolled around. I mention this because I have to say I drink to win so my memory of the night is probably a little rose tinted.
First up gin. A lovely gin and tonic to get things started, deliciousness. We weren't originally able to get a table but being super busy peeps we thought we'd chance it at the bar and see what happened. We managed to get a table (Dan from
Milkbar Magazine
was in tow) and after qualifying what we wanted we got down to business (I asked for chefs choice for an entree and a main).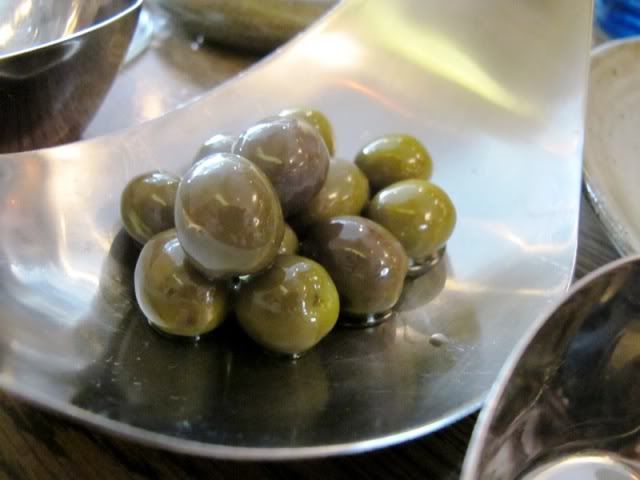 manzanilla olive $8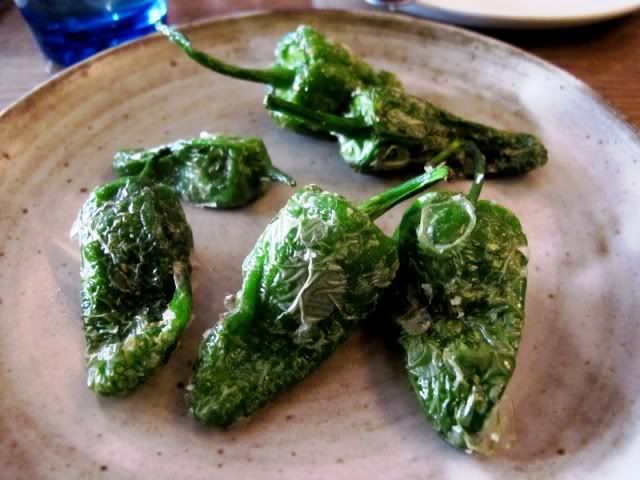 peppers de padron $11
Snack time - olives, peppers de padron, bread, stunning olive oil and seaweed crackers with smokey eggplant. Amazing. The small touches like olive oil being brought out without having to ask is the stuff that melts me. Gluten free bread easily on hand and delicious, we picked away whilst we tucked into a bottle of wine. It was already my favourite kind of dining experience where I just drink and talk, arms flailing and every now and then amazing food gets put in front of my face.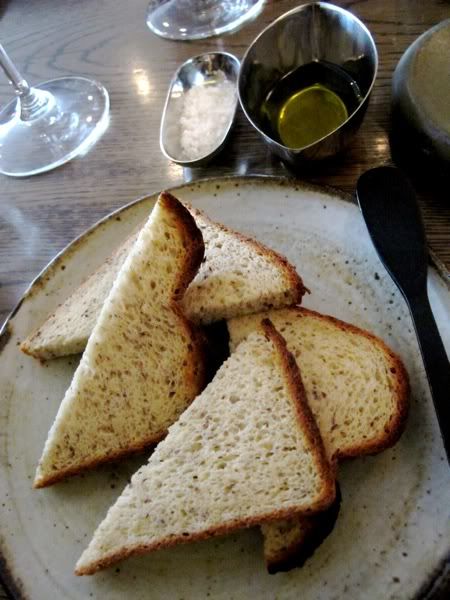 gluten free bread and olive oil
Entree - my chilled pea and sorrel soup was absolutely dreamy. Velvet smooth with the soft, crisp texture of the cos leaves and chewiness of the mushrooms. Perfect texture balance but the taste, oh the taste, sweet, smooth (it was so smooth, lush and perfect it almost counts as a taste) and the umami of the mushrooms, amaze. I normally wolf down my food but it took me about 5 minutes for each spoonful. Glorious.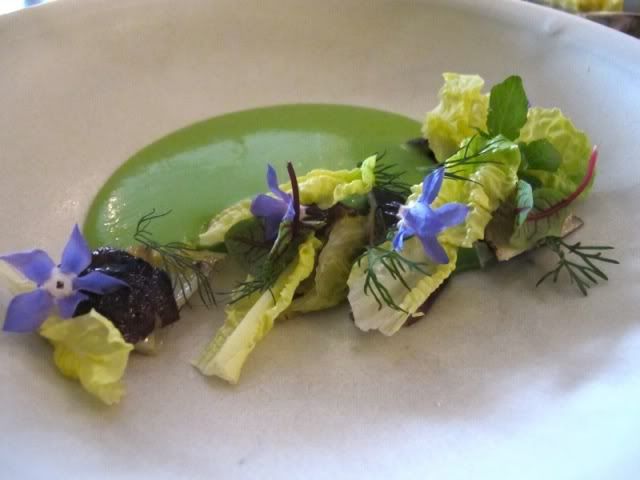 entree - chilled pea & sorrel soup, borage baby cos heart and shiitake $24
Mains - my main of wood grilled leeks was again a texture and flavour sensation. This time was a dance fight in my mouth between tart, sour and salty (all my favourite flavours). Not to mention the smokiness of the wood grilled leeks. The flavours of this dish were BIG, again savour ever mouthful.
The sides were as glorious as the rest of the food, the heirloom tomatoes (
much like the tomatoes at MoVida
) you can't really comprehend how good a tomato can taste. The fennel salad was also excellent, one of my favourite vegetables and it's dry aniseed flavour rounded out the wet saltiness of the main.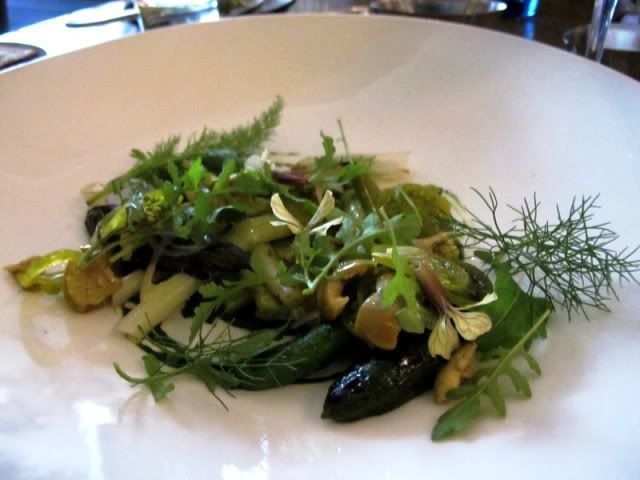 main - wood grilled leeks and cucumber, pickled green tomatoes, olives and fat hen $36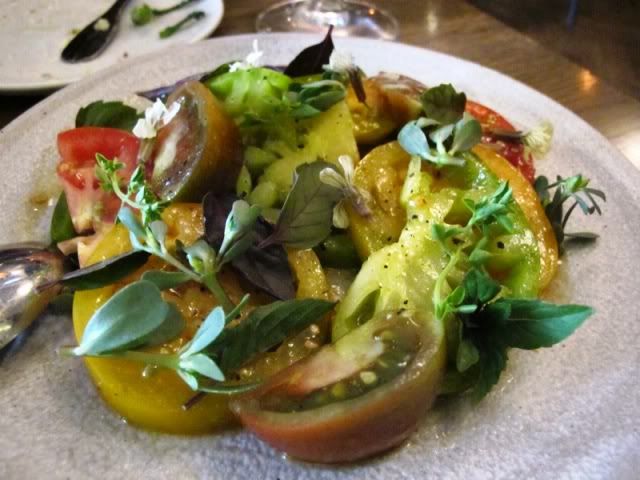 side - heirloom tomatoes, muscatel vinegar, basil and purslane $22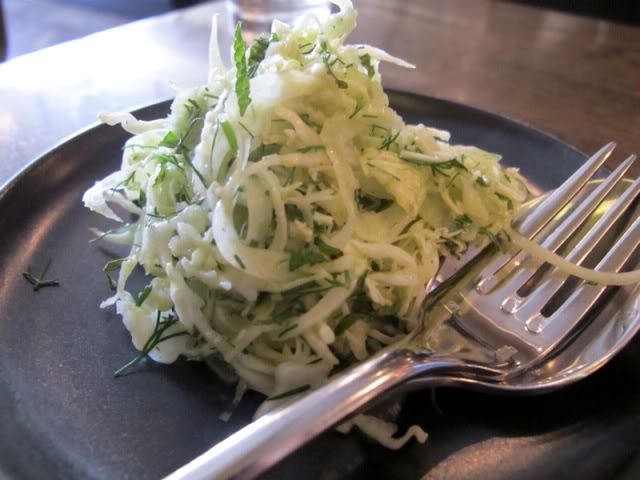 side - shaved cabbage & fennel salad with dried chilli & orange (asuming around the $20 mark)
By this point I was full in all senses of the word. I ordered another bottle of wine for dessert however Claire did a sneaky executive decision and ordered us a vegan dessert to share. I don't have much memory of it as I only had a mouthful but I remember it being crisp (granita) and sweet.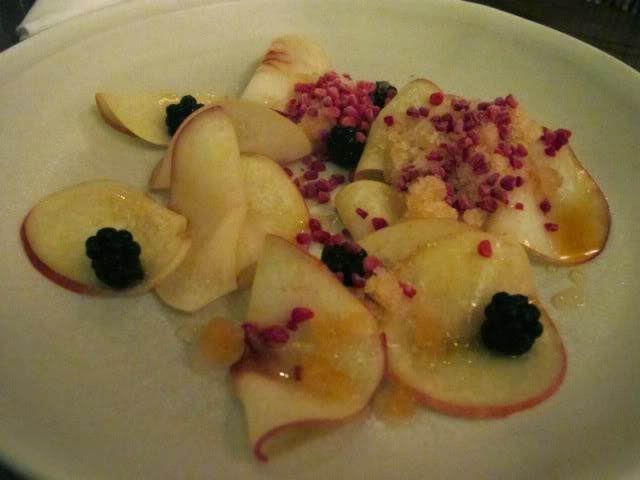 shared dessert - white nectarine, white peach, frozen raspberries with verjuice granita $18
Unexpectedly we had some after dinner sweets delivered once all was cleared, for me some figs with thyme caramel. As you can see the morsels looked so tasty I beat Claire to getting the camera out.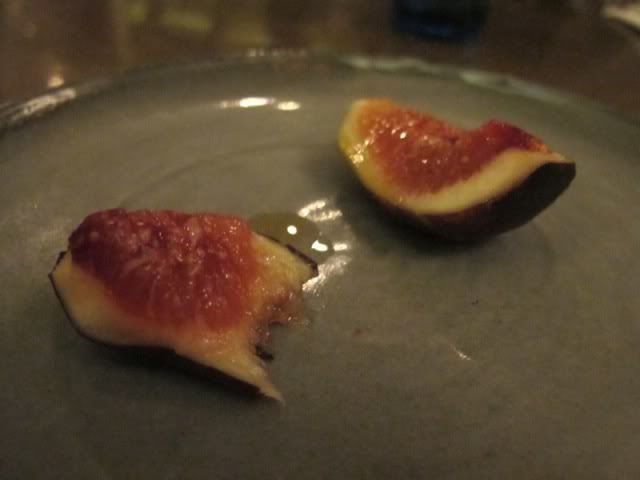 figs with thyme caramel
Cutler was as I remember it the first time, amazing. The service is excellent, and anywhere that tolerates me getting quite drunk and loud with good humour is always in my good books. They did lay it on thick for Claire being the well known amazing food writer she is. We got a couple of entrees and sides sent on the house which I was unsure of how to bring up here but when we looked at the receipt weeks later we were given the wrong bottle of wine (the one I asked for was $50ish and the one we had was $90ish) so I feel like it evened out.
A flawless night. You can always judge someone by the quality of their staff, Andrew McConnell really has it together.
You can read Claire's account of our night here
.
deets:
55-57 Gertrude Street, Fitzroy
web:
http://www.cutlerandco.com.au/
$$:
we paid $140 each including tip
other voices, other times:
no other vegan blogs have covered it, below are Cindy and Michael's vegetarian experiences
where's the beef (all four trips are listed in the post)
all photos by Claire Davie - Melbourne Gastronome