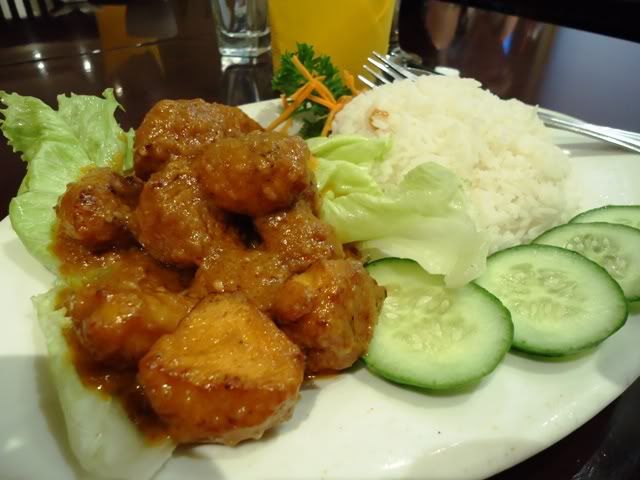 Due to all my board/school/writing and social commitments I travel around A LOT of Melbourne. Recently I've joined a new board that meets in South Melbourne so it's a perfect chance to have a quiet dinner for one at Enlightened Cuisine. I love the mix of people you get at Enlightened, punks, goths, extremely large Indian families all crowded around a banquet table. All there to revel in delicious mock meat craziness. I've
blogged before on the extensive feast you can have at Enlightened
, this night in particular I had a small dish from their lunch menu. White table cloths amazing staff and a glass of wine, my incredibly stressful day melted away.
Trying to avoid wheat I thought Enlightened would be off limits to me but I was surprised and happy to find out they use soy mock meats aplenty. My chicken satay was AMAZING. I really love Enlightened, it's in such an awkward part of town that many people don't go it's such a shame. I'm happy I've joined this board though, I'm going to be Miss Fatty Pac Man eating my way through the menu.
deets:
113 Queensbridge St, Southbank
web:
enlightened cuisine
$$:
chicken satay lunch special $13 (after 5pm)
other voices, other times:
where's the beef?
vegan about town
mel: hot or not
ps:
Enlightened are closed for renovations until 23rd of March.