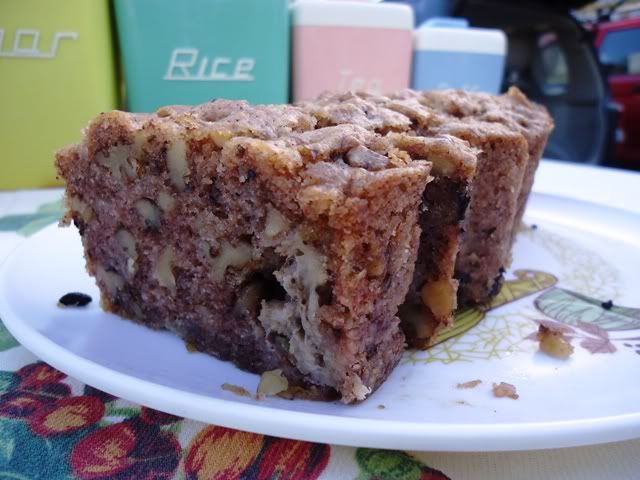 This is hands down the best gluten free banana bread you will bake. Stays moist and fresh even the next day. Throw in a handful of chocolate chips if you want a sweeter treat for breakfast.
ingredients
2 cups of gluten free flour*
2 tsp baking powder
2 tsp baking soda
1 tsp salt
1 tsp cinnamon
1/2 cup of vegetable oil*
2/3 cup of maple syrup*
2/3 cup of rice milk
1 tsp of vanilla extract
2 frozen bananas, defrosted in their skins
1 cup of walnuts, roughly chopped
method
1. Preheat the oven to 180 degrees celcius. Lightly grease a standard loaf pan or a small cake pan.
2. Toast the walnuts on a baking tray in the oven until they just start to brown, cool them while you make the batter.
3. In a medium sized bowl mix together all the dry ingredients (minus the walnuts).
4. In another medium sized bowl mix together all of the wet ingredients. Chop off the tops of the defrosted bananas and squeeze them out of their skins into the wet ingredients like toothpaste out of a tube. Weird huh! Mix the bananas into the wet ingredients then add to the dry ingredients until well combined. Gently fold the walnuts into the cake batter.
5. Pour the batter into your loaf pan till just above half way. Bake for 45 minutes. A cake is cooked when you lightly poke it, it springs back and a skewer or a knife inserted into the middle comes out clean. If you cake is browning on the top too much but not cooked in the middle lower the heat a little and place a piece of baking paper on top of the cake.
notes:
I find Orgran wheat free products to be the best. I use olive oil in mainly everything, if you find the taste too overpowering use canola oil or a blended vegetable oil. If you cant afford to use pure maple syrup in baking all the time use maple flavoured syrup or the equivalent sweetener of your choice, try and keep it liquid though.