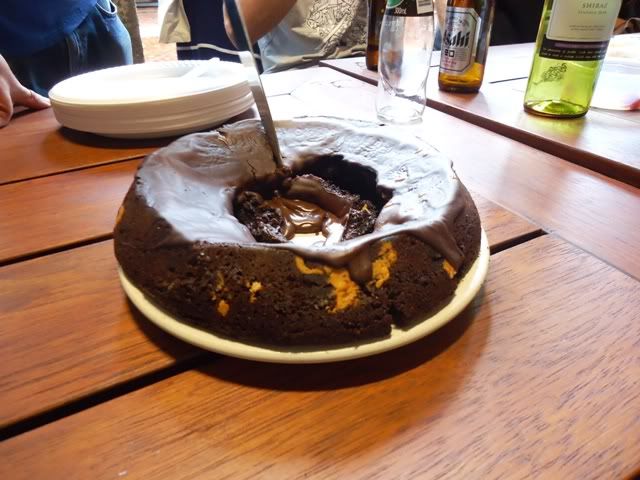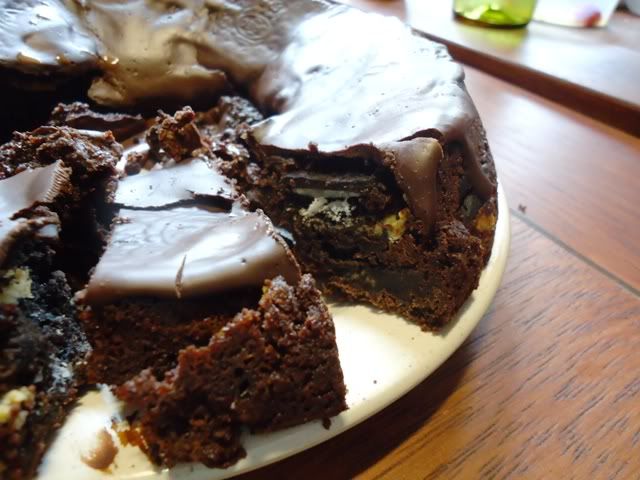 I don't bake much. I don't consider myself to be a great baker but honestly I'm banned from baking because I get too fat. Except for special occasions like bake sales or birthdays I get to get my BAKE ON. I saw this post on
craft zine
a wee while ago and became obsessed with recreating it. Their cross section and photo is much prettier than mine, but then mine was a birthday cake AND a whole cake. This was crappy to cut into but amazing to eat! So quick and easy to assemble too, I made this and my
prize winning banoffee pie
all in an hour. BOOM.
ingredients
2 packets of oreos
3 tbsp of peanut butter (or to your gluttony)
1 packet of
Melinda's Heavenly Chocolate Brownie Mix
1/2 block of Lindt dark chocolate (or to your gluttony)
3/4 cup of soy milk
method
1. Smear peanut butter on top of Oreos like you're putting it on a sandwich. Line a standard cake pan with smeared Oreos then create another layer.
2. Follow instructions on packet to make brownie batter and pour over the top. Bake to instructions.
3. Either in the microwave or in a bowl over hot water, melt chocolate. Then whisk in the milk a little bit at a time. The ganache goes really thick, this is normal. Just keep adding milk until it gets to the consistency you like. Pour over the cake. VOILA!!!
you can buy
Melinda's Brownie Mix from the Green Edge