kung po chicken - chilli "chicken" with mixed veg & cashews served in a potato basket. $20.90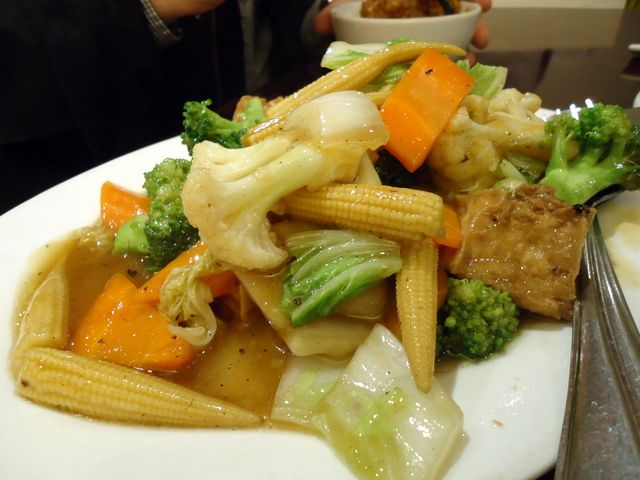 stir fried mixed vegetables - $16.90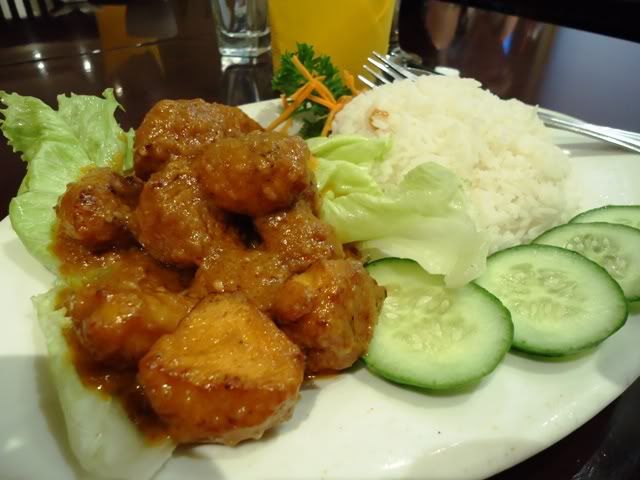 satay chicken - $17.90
A rainy Saturday night took us on a trip to Enlightened Cuisine. I was craving their chicken satay and keen to see the restaurant after their recent renovations. The space is lovely! Light, large (they've knocked down a few walls) and a gigantic happy Buddha to great you as you walk in the door.
The kung po chicken was delicious and super spicy (just what I wanted). The potato basket was quite strange, but it soaked up the kung po juices nicely. We should have just eaten that as it was so large but of course restraint doesn't seem to happen at Enlightened. I didn't like the stir fried vegies, I prefer Thai stir fry, dry and crisp not covered in a gooey sauce. The chicken satay, as usual, was amazing.
On a side note there was a wedding reception there that night, it was SO awesome. Everyone looked so happy and joyous. It's just that kind of place - a Chinese wedding, a huge table of goths all sharing amazing food. Enlightened is becoming a serious comfort spot for me.
deets:
113 Queensbridge St, Southbank
web:
enlightened cuisine
$$:
we paid about $60 - you can BYO as well
other voices, other times:
me:
one
,
two
where's the beef?
vegan about town
mel: hot or not