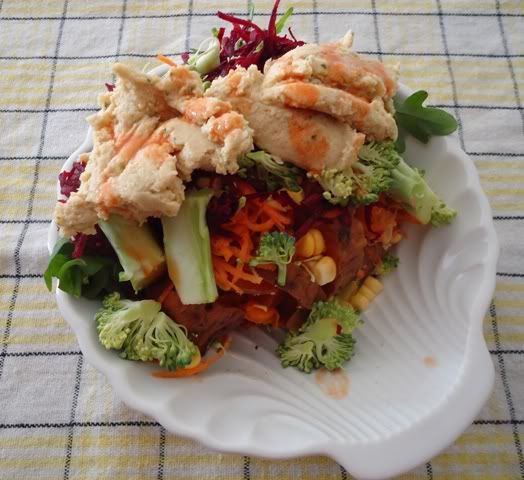 So as you're all aware I'm pretty
obsessed with Spud Bar
. Sweet potato has to be my favourite food EVER. I'm also trying to be better and packing my lunch + dinner on uni days. So Spud Bar at home was created. You chop up/grate all the ingredients, store separately and bake some sweet potatoes then assemble on the day!
ingredients
chopped up raw broccoli
fresh corn kernels
grated raw carrot
grated raw beetroot
rocket or spinach
tempeh facon chunks
a couple of medium sweet potatoes
salt and hot sauce or condiment of your choice
a whopping big dose of hommous (recipe below)
ditto guacamole
method
1. Heat oven to 200 degrees, poke the sweet potatoes quite a few times with a knife, rub with salt and olive oil. Wrap in foil and bake for about an hour and a half. They will become so soft they will almost caramalise DREAMY.
hommous ingredients
1 x 400g can of chickpeas (rinsed)
1/4 cup of tahini
1/4 cup of lemon juice
2 small garlic gloves, minced
liberal pinch of salt
a glug of good olive oil to loosen it up
method
1. Combine all of the ingredients in a food processor. If it's too thick you can either thin out with more water or olive oil.