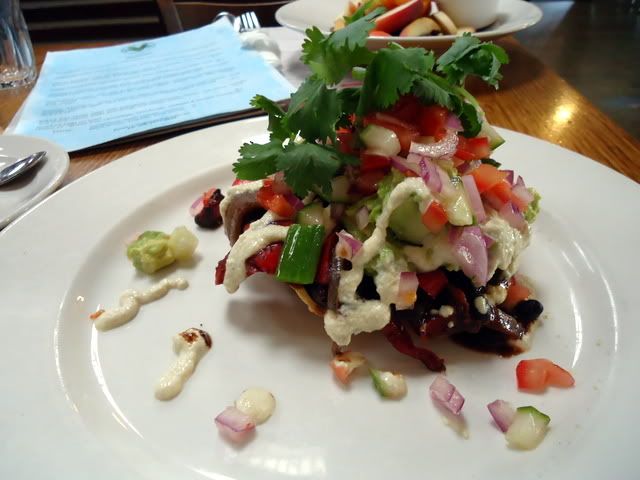 huevos rancheros $12?
raw muesli with cashew yoghurt and nectarines $8?
MOAR MOAR MOAR Vegie Bar love. Imagine my surprise when I realised it was Saturday AND I was there 5 minutes before their breakfast menu was to finish. The huevos rancheros is lovely, seriously lovely (and dare I say it better than
Trippy Tacos
) I think its the Vegie Bars coconut sour cream, that stuff is UHMAZE. My friend Alice had the raw breakfast as she was on a raw diet at the time. This was delicious but the ratios were really out of whack. It should be mainly fruit (75%) with a bit of muesli as the dehydrated muesli is SO rich and heavy. Delicious but we felt like we were going to die after eating it. Vegie Bar going from strength to strength.
deets:
378 Brunswick St Fitzroy, 03 9417 6935
web:
the vegie bar
$$:
$12/8? (cheap in any event)
other voices, other times:
me:
one
,
two
,
three
,
four
,
five
,
six
,
seven
,
eight
,
nine
vegan about town
healthy party girl
losing my love handles
melbourne vegetarian
melbourne food files
insatiably healthy
wheres the beef?
in the mood for noodles