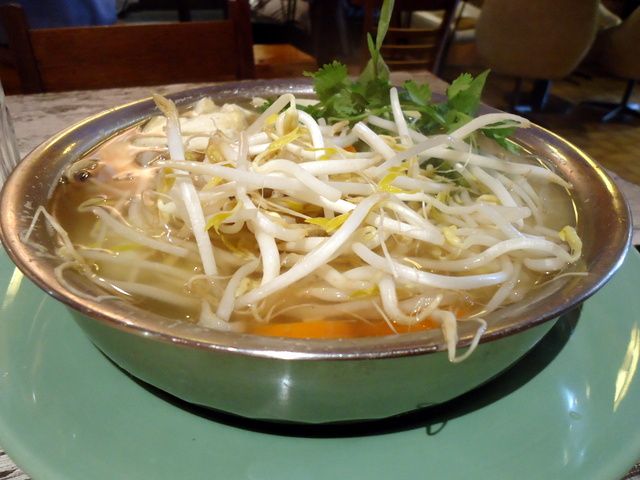 I'd tried going to Yong so many times after many many rave reviews from friends but I just never seemed to get there. The siren song of garlic pizza at
Bimbos
or anything at the
Vegie Bar
always lured me in. I tried going a couple of times on a Monday, Yong is closed on Monday. So on a coldish, blustery day where I was feeling sad I found myself sitting in front of the hugest, most delicious bowl of vegan pho I've ever eaten. Vegan.pho.
Terrible photo as you can't see the mountains of vegies underneath that pile of bean shoots. It wasn't one of those sad noodle soups with 2 florets of broccoli and a slice of capsicum, this was filled to the brim with vegies and tofu. The broth, oh the broth. I took a slice of raw pecan pie home and it was also delicious. Yong has an EXTENSIVE menu, all delicious looking. The pho was too big for me, I wish they had a smaller size - that would be the only criticism, their meals are large enough for two, if you don't have someone to share with you will waste food (my pathological fear).
You've heard it all around the traps Yong is amaze (yes I'm 4000 years behind everyone else). Yong also do a macro feast, DYING to try that out.
deets:
421 Brunswick Street, Fitzroy
web:
no web site
$$:
pho was $14.50
other voices, other times:
wayfaring chocolate
in the mood for noodles
hot: mel hot or not
fitzroyalty
eat and be merry for tomorrow we diet
where's the beef?