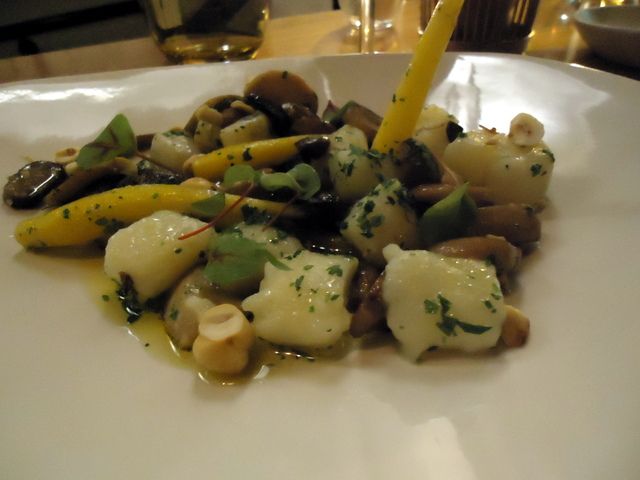 gnocchi with hazelnuts, heirloom carrots and mushrooms $28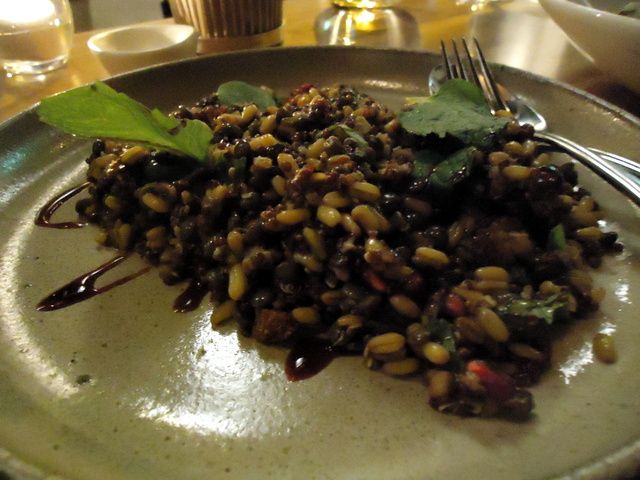 Philippa Sibley, Albert St focuses on local produce and sustainable ingredients. The space is cavernous, all wood, low lighting with black block accents. We took a chance in a getting a bar seat which was easy enough and particularly snuggle bum on a drizzly, Autumn Saturday night.
Not much is identifiably vegan on the menu but having been highly recommended by
Marieke,
I was confident and they gave me a few options to choose from. I chose the gnocchi with the ancient grain side salad (minus fromage blanc) and a couple of scoops of sorbet. My gnocci was *delicious*, I'm drooling a little bit thinking about it. Light and fresh with hand made gnoccis it was dreamy. The grain salad was good, but without the fromage blanc they should dial back the pomegranate molasses as it was all I could taste. The sorbet was lovely, particularly the pear, not too sweet and a perfect end to the meal (though I would recommend only one scoop, that was enough for me).
I had a perfectly lovely meal at Albert St, the wait staff were helpful and attentive. I wasn't sure why my gnocchi was $28 and Daniels' spanner crab risotto was $26 but I didn't ask. Albert St is a bit too rich for my wallet,
Hellenic Republic
and
MoVida
are both comparable dish wise and more reasonably priced.
deets:
cnr of Albert St & 382 Sydney Rd, Brunswick
web:
Albert St
$$:
2 mains, 1 salad, 2 dessert, 3 glasses of wine, 2 coffees $140
other voices, other times:
only other veg bloggers have been
Where's the Beef?