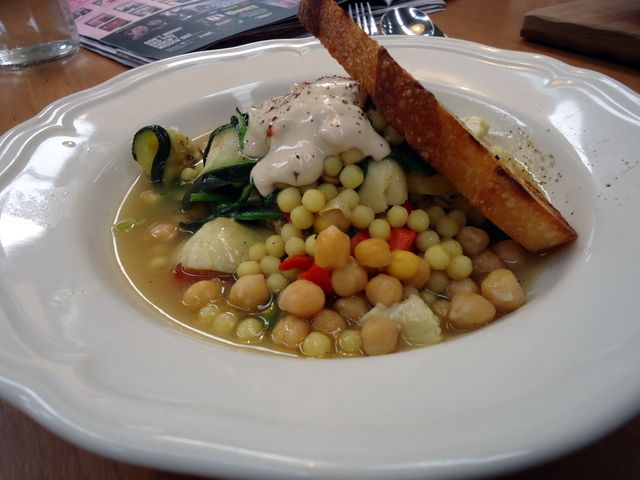 On a sunny Saturday afternoon we waddled up to l'atelier de monsieur truffle for a very late brunch. Interest firmly piqued
by Cindy and Michaels post
I was super excited however I was still slightly skeptical, well labelled gluten free AND vegan options? How many can a chocolatier have? The answer is enough for me to have a hard time choosing.
I went for the warm chickpea salad with tahini dressing and moghrabieh, served with sourdough toast. Swimming in a light broth it was more soup than salad but was all amazing. Complete with all the expected trimmings of a middle eastern style dish - zucchini, roasted capsicum, artichoke heart.The tahini dressing in particular was mind blowing. Ordinarily, on paper, I would be bored by such a vegan offering but GET IT IN YOUR FACE IMMEDIATELY.
I'm not sure because of the time of day or our sickening display of romance but our communal table was quite empty and so was the rest of monsieur truffle. It made for a sublimely lazy meal, one of the best Saturday afternoons I've spent in a long time. Sometimes I feel like such a Brunswick snob, Lygon st is just toooo faaarrr aawaaaayyy. Which is really stupid because
Wide Open Road
is the only decent place in walking distance to my house. Get on the bike you lazy bitch because Lygon st (east) is really killing it.
deets:
351 Lygon Street, Brunswick East
web:
monsieur truffle
$$:
$14 (?)
other voices, other times:
where's the beef?
little eats
fitzroyalty
bean there read that
mel: hot or not