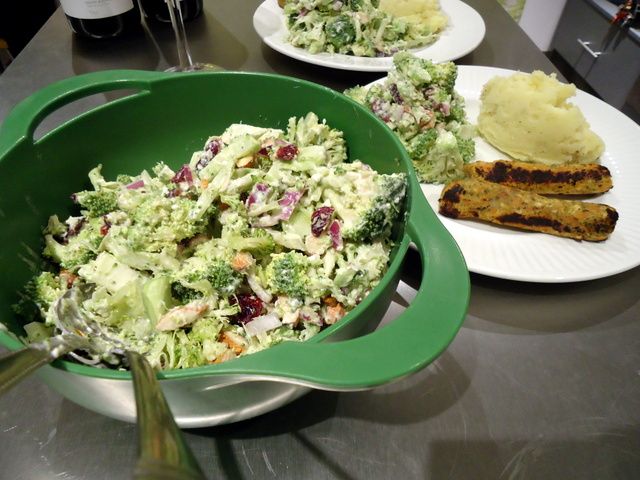 I've been eating raw broccoli obsessively lately, I can't get enough of it. So when Deb mentioned this slaw recently on her blog I leapt at the chance. The buttermilk dressing is a variation of what I created for the
Ottolenghi eggplant recipe
; it's tangy, creamy and marries perfectly with the sweetness of the cranberries. I use Kingland cream cheese as its much much better for you than Toffuti. This recipe is straight veganised from
Smitten Kitchen
.
ingredients
2 heads of broccoli, roughly chopped
1/2 cup raw almonds, roughly chopped
1/3 cup dried cranberries, (you guessed it) roughly chopped
1/2 small red onion, (to mix it up) finely chopped
buttermilk dressing
1/2 cup soy cream cheese, room temperature
1 tablespoon apple cider vinegar
1 tablespoon white vinegar
1-2 tablespoons rice milk
method
1. Make buttermilk dressing by whisking together the cream cheese and vinegars. Whisk in the first tablespoon of milk and taste to see (depending on what kind of milk you use you may only need 1 tablespoon). Dressing should be tangy and creamy. Whisk in another tablespoon of milk if need be or a little bit more apple cider vinegar. This dressing needs a bit of playing around with. Thin out with a little water if you need to.
2. Drizzle the dressing in the big salad bowl full of deliciousness. Toss to dress. This keeps for quite a few days.