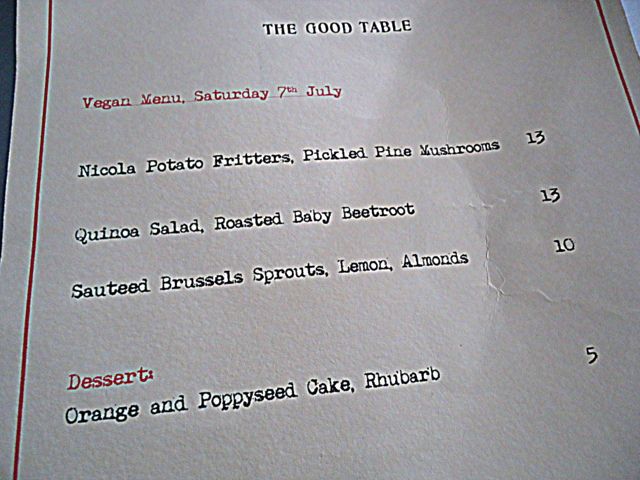 custom vegan menu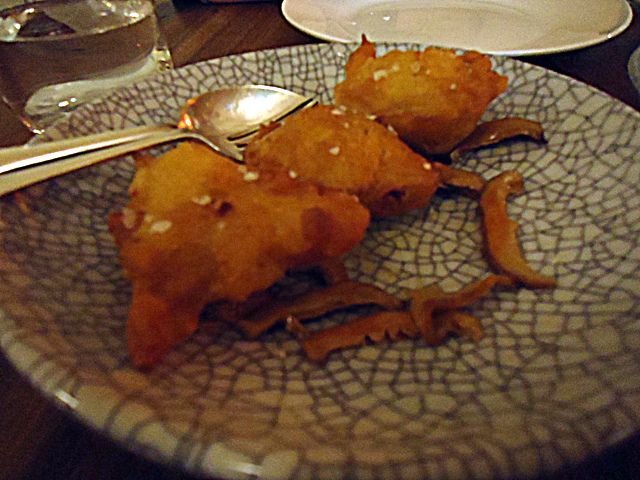 nicola potato fritters with pickled pine mushrooms $13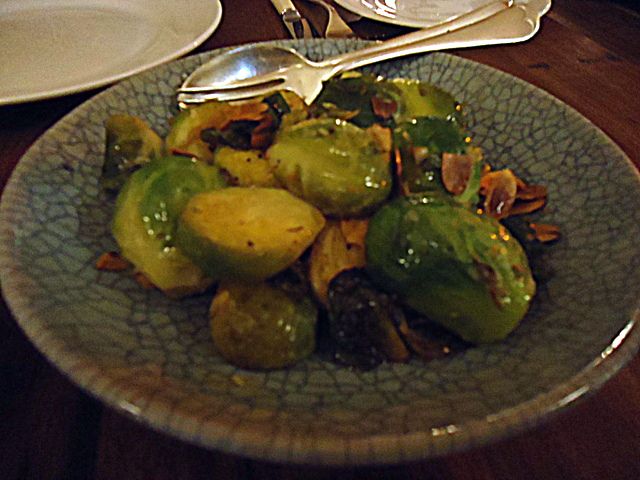 sauteed brussel's sprouts, lemon, almonds $10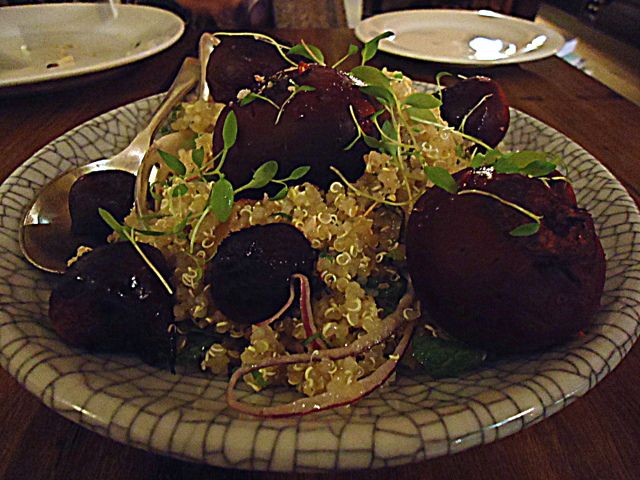 quinoa salad, roasted baby beetroot $13
First, apologies for the heavily manipulated (and a bit crap) images. My battery was dying and these were all I could squeeze out.
On our recent trip to Castlemaine
I was very much looking forward to eating at
The Good Table
. Helmed by chef Alex Perry (Movida, Cafe di Stasio) I was expecting a bit of home away from home. We rang ahead to ask whether they could do vegan food and was told not a problem. Being greeted by the vegan menu was a lovely touch and made me feel like I was in good hands.
The restaurant itself is just on the edge of the 'main drag' housed in a lovely old building. The layout is a bit awkward as most tables face and the front door and cop the chilly country draft but a couple of glasses in and we didn't notice anymore. It was a bustling Saturday night and hopeful diners were being turned away (and directed to other local businesses) every couple of minutes. Moral of the story - book!
The vegan dishes were variations of the days menu. Focused heavily on in season and local food the menu changes daily - to see all of Alex's
seasonal work have a look at the forage page
. The wine list is predominantly local but peppered with French, Italian and Spanish reds - we had a South Australian grenache and it was delicious.
The food ah the food. The nicola potato fritters were a bit too floury for me. The pickled pine mushrooms were a great condiment though, the sourness cutting through the crunchy and pillowy fritters. The brussels sprouts were fresh, delicious and HUGE. I have a soft spot for brussels sprouts and they are done no better than quickly sauteed with lemon juice and olive oil. The quinoa salad was the absolute stand out of the night - the beets were concentrated globes of sunshine. So simply prepared with parsley micro greens; that's the Movida touch, in season produce simply prepared with it's perfect flavour combinations.
We were so full from these dishes I didn't get dessert (add some bread and they were huge starchy meals). I wanted to take the cake home as Alex had gone to the effort of preparing it but they don't have a take away license. The Good Table is all that I expected it to be and more. It's a slice of home away from home but in a relaxed country environment (we asked if we had to leave before the second sitting and he said "oh no we don't do that, this is the country). Simply lovely.
deets:
233 Barker Street, Castlemaine, Victoria, 3450
web:
the good table
$$:
$90 with a bottle of wine
other voices, other times:
no other vego blogs seem to have covered it