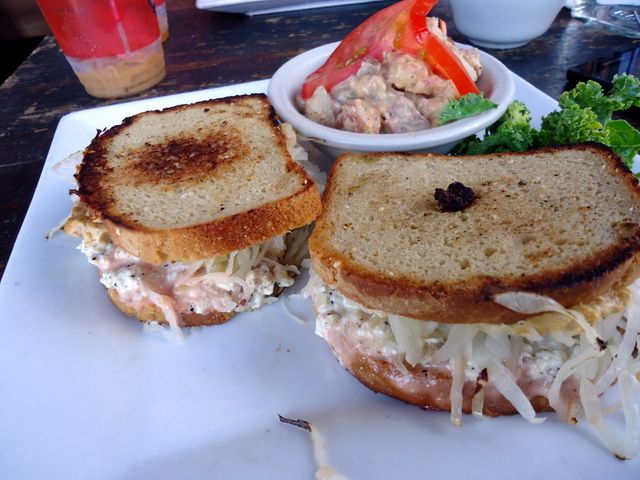 tempeh reuben - served with cashew cheese, sauerkraut, tofu, 1000 island dressing and potato salad $9.95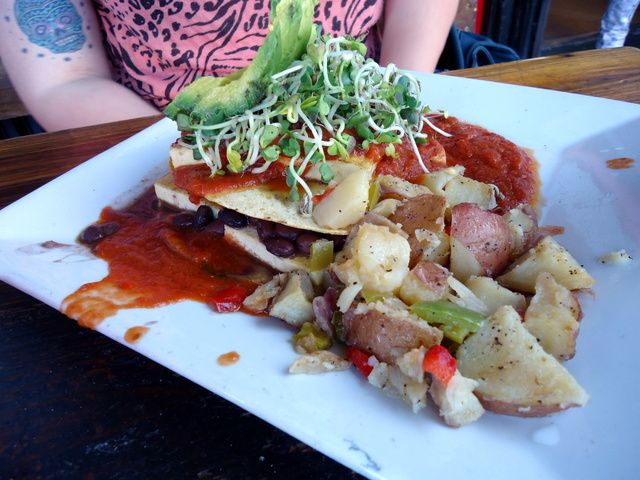 southwest scramble - black beans, corn, tomato, coriander, spanish onion, corn tortillas, tempeh bacon and a side of potatoes $9.95
Sunday morning and our appetites were huge after a day of partying at FYF Fest. We also needed sustenance for day two! So off to Flore we went.
There was quite a long wait for a table (as it's quite small) so we put our names down and toddled down the street to get some coffee. By the time we got back our table was ready - outdoor and in the sunshine, it was heaven.
As usual it was SO difficult to choose. I settled on the vegan rueben with gluten free bread (millet) as a sweet breakfast wasnt calling me, nor was a tofu scramble. This was pretty messy to eat but the sour and salty was exactly what I wanted. I wasn't a big fan of the bread, I found it too dense but I ended up just eating the filling from the second sandwich and loved it.
The potato salad side was UNREAL. One of the best vegan potato salads I've ever had. Dreamy creamy, perfectly cooked potatoes and salty. Lisa enjoyed her scramble, I tried the tomato beans and they were delicious.
Although my vegan rueben didnt completely blow my mind it had many elements that were awesome. I would definitely recommend Flore and I'm keen to go back and try some more. It's also a fantastic place for people watching.
deets:
3818 w. sunset blvd, silverlake
web:
flore vegan
$$:
as above plus add tax and tip
other voices, other times:
vegan man cave
vegan victuals
(also has Mohawk Bend in the same post - I will be posting that next)
quarry girl
awesome vegan blog
vegan yack attack