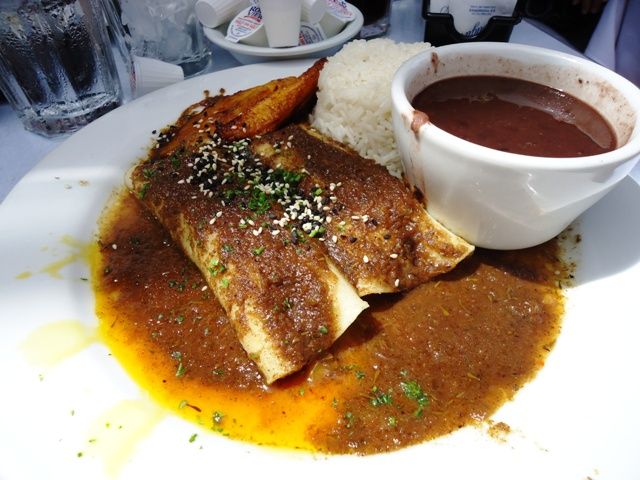 JERK TOFU. Holy SHIT. I wasn't that hungry, was a tad hungover and definitely vitamin D drugged but spying the jerk tofu enchiladas on the menu I couldn't resist. When it arrived I was kind of like "BROWN" but after that first mouthful I was in love. The enchiladas are filled with jerk tofu and mango chutney topped off with 'carribean sauce' which will haunt me till the day I die. I must know it's secrets so I can recreate it.
Served with brown rice and beans I didnt even go there as I did not want my palate polluted with anything else. I did eat the plaintains however AND THEY WERE DELICIOUS (considering I'm mildly allergic and grossed out by banana these are actually quite different and awesome).
I think I'm going to be obsessed with Carribean food when I get home. At least jerking everything (always think of Hermes when I say that)*. As its right on Venice beach so of you might actually get there. GO. GO GO GO GO GO. I have a 6 hour stop over on the way home and I'm already scheming ways to eat this.
deets:
14 Washington Boulevard Marina Del Rey
web:
mercedes grill
$$:
$17 plus tax and tip
other voices, other times:
couldnt find any sole vego blogs that had reviwed
*more dorky futurama jokes
**you need to ask for this without the cheese