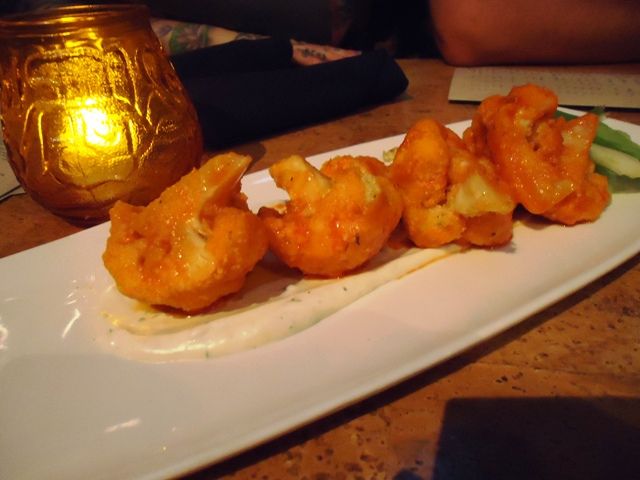 buffalo cauliflower $7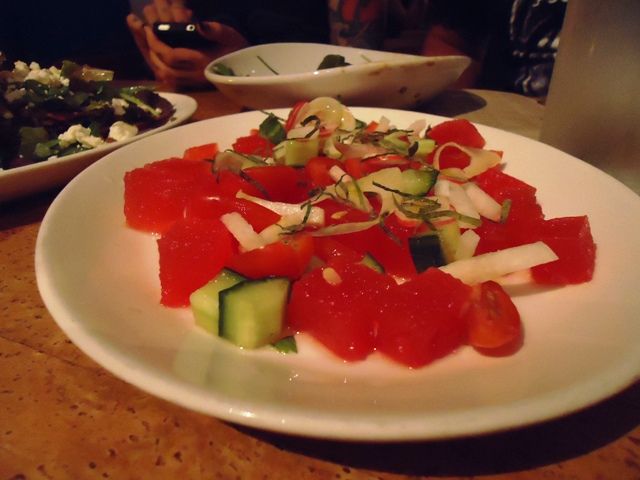 summer watermelon salad - cucumber, jicama, cherry tomato, radish, pickled fennel, shiso $9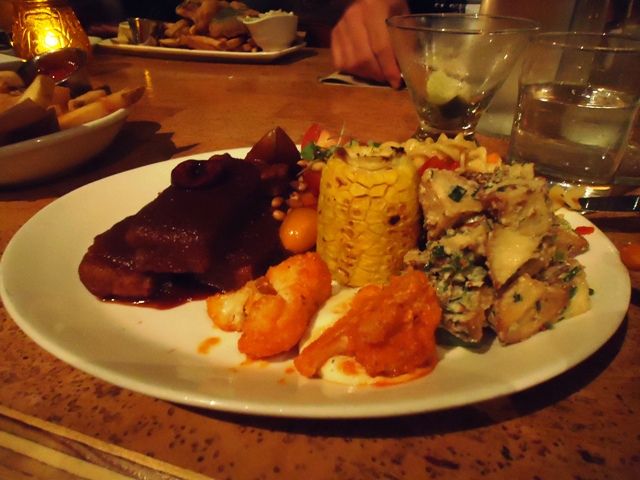 labour day picnic - ribs with cherry bbq sauce, roasted corn, potato salad, pasta salad, heirloom tomatoes $16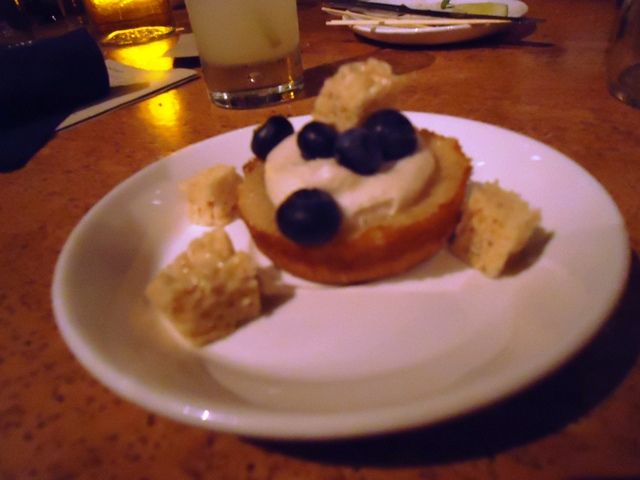 lemon bar with whipped cream, blueberries and rice crispie crumble (included in labor day picnic)
Mohawk Bend lives in this anti world where all the items on the menu are vegan unless otherwise specified. They have two separate kitchens for preparing meat and vegan food and they hand make ALL their ingredients from seitan to ginger beer, cordials etc.
Walking in is unlike any bar/restaurant space I've been to. Situated in an old theatre Mohawk is cavernous with a gigantic fireplace in the back room. Again the menu is so interesting and vast it was one of those what the fuck am I going to choose moments. SO much deliciousness. In the end I went with the "meatless monday" special as it seemed the easiest, came with a dessert and combined a lot of things I wanted to try on one plate.
My friends ended up getting a few shares plates, some of which I could try. The watermelon salad didnt get me, I couldnt marry the heat of the radish and pickled fennel with the sweetness of the perfectly ripe watermelon. The buffalo cauliflower was out of control (and would later turn up on my labour day bbq plate). The cauli was marinated in a spice rub, raw. The spice rub had a bit of vinegar in it which softened the raw cauli slightly, taking it from gum shreddingly hard to perfect ahhh crunchy. Then to sop up the buffalo sauce and 'blue cheese' dressing, totally amazing.
My meal arrived and it was the perfect balance and size. I don't know why I went for seitan ribs as I was pretty sick afterwards but I couldnt help it! The fresh cherry bbq marinade was so so good. The potato salad was also excellent but the pasta salad was a little boring, but perhaps with the richness of all the other sides it was a good balance to soak up the other flavours.
The service was a little all over the shop, our drinks took quite a long time (each round). But they were all smiles and super lovely so I'm giving them the super busy/holiday weekend pass. My dessert arrived and it was the best not too sweet round off to my meal (and ideal size). The lemon tart was lovely though the base was a little too cakey because paired with the soft chewiness of the rice cripsy squares it was texturally unbalanced. It needed a big dose of crunch in there. But in any event it was impressive like the rest of the meal and I really did appreciate that it was light on the sweetness.
Overall Mohawk Bend is excellent. They know what their doing and really do live up to their motto "commitment to craft". I can't wait to go back.
deets:
2141 w. sunset blvd, los angeles
web:
mohawk bend
$$:
as above plus tax and tip
other voices, other times:
vegetarians in paradise
quarry girl
your vegan girlfriend
the roaming belly