GREETINGS FROM NEW YAWK CITAAAYYY. I arrived Sunday afternoon and am happy to be somewhere where NO ONE GIVES A SHIT ABOUT MY TATTOOS. OH YEAH.
Honestly in Toronto it was like I was a space alien come to take them all back to the mother planet. People would stop, stare and POINT at me. It really became tedious after a while. Although I do get a little bit of harassment in Melbourne its also cold enough most of the time to cover the majority of my tattoos. Also I live in Brunswick, the North is filled with heavily tattooed people. I always get a shock when I leave my perfectly little insulated bubble of Melbournes north but honestly Toronto was something else all together.
THAT ASIDE. I had a great time. I tried getting into a couple of sold out TIFF sessions but it was just too painful and considering most of the films will come to Melbourne I didn't bother. Toronto is actually quite like Melbourne which isn't all that surprising really. It's super easy to get around (I mean really by day 2 I didn't even have to think about it) my only regret is not signing up for the local bike share program the second I got here. The cyclists are really chilled here too, this woman was standing in the bike lane trying to see if a tram was coming and cyclists were just going around her, if that was Melbourne that woman would have had a swift kick and a slap.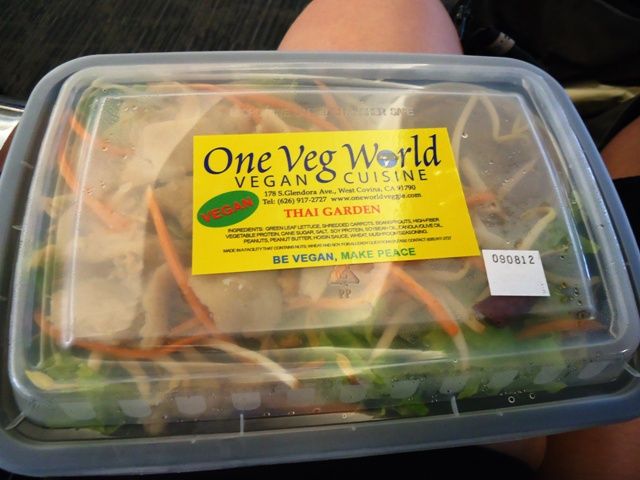 These are amay amay - found everywhere and completely fucking delicious (I picked this up at LAX). There is another company called 'california vegan' that I saw quite a few places too. Great for meals on the run.
eat.
I ate.so.much.food. But because I ate so much I was generally only eating one meal a day. Posts coming soon is for
Sadies
(cute vegan diner),
Hibiscus
(amaze gluten free vego place - AMAZE),
Fresh
(equally amaze), the trippy dippy
Urban Herbivore
and on my last day vegan mecca
Hogtown Vegan
.
out.
Textile Museum of Canada
Douglas Coupland
is one of my favourite writers. He's also a mixed media artist (mainly sculpture though some painting). I figured there would be something of his on display in Toronto and of course it was as the Textile Museum of Canada! ha!
I love the little adventures being obsessive takes you on. I would never have gone to this museum and it was one of my favourite things I did in Toronto. The exhibition
Dreamland: Textiles and the Canadian Landscape
was absolutely breathtaking. I'm obsessed with understanding how things work and to see so many handmade textiles was just wonderful.
Ranging from childrens clothes from the 1800s, to Inuit and Metis traditional clothing, quilting and contemporary pieces commissioned for the exhibition this was extremely beautiful and charming. Couplands piece took my breath away. His idea for a quilted rug was a series of QR codes (only one was displayed) which all, when scanned, serve messages from the artist. I LOVE HIM.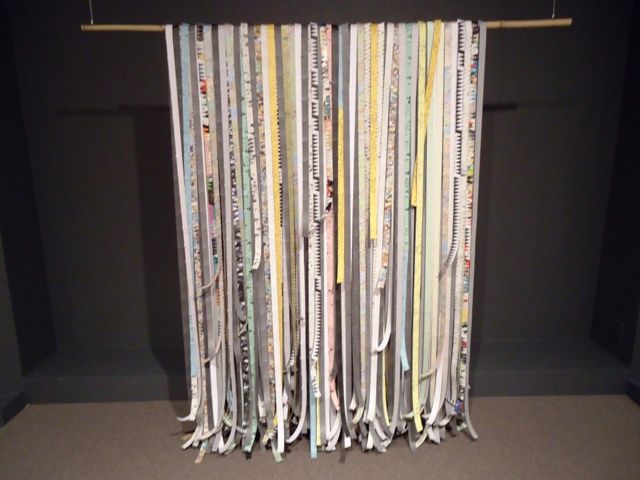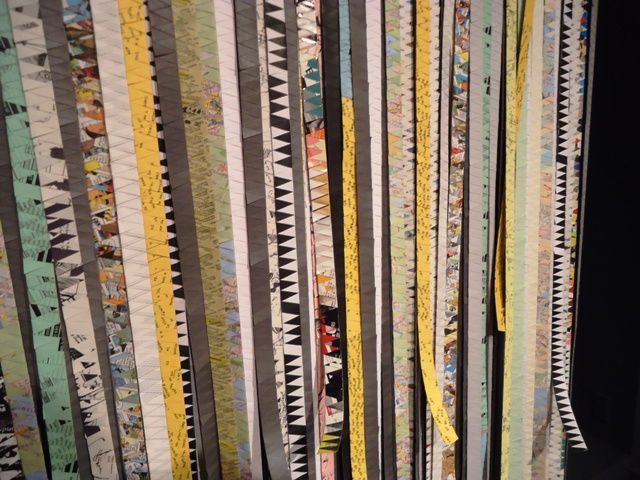 modern piece - "woven" from folded paper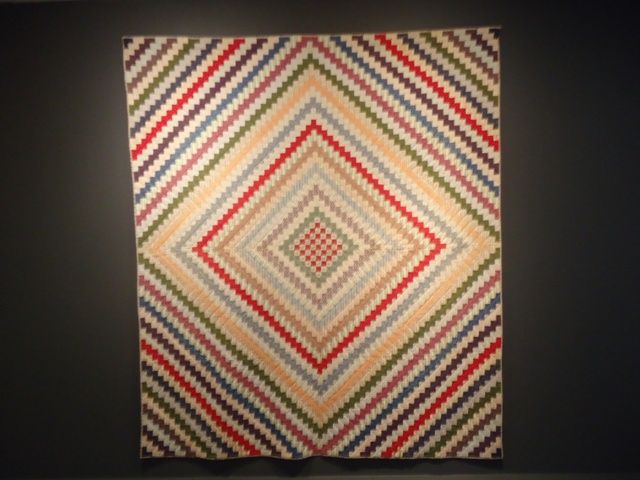 exquisitely composed quilt, all postage stamp sized pieces of cloth painstakingly sewn together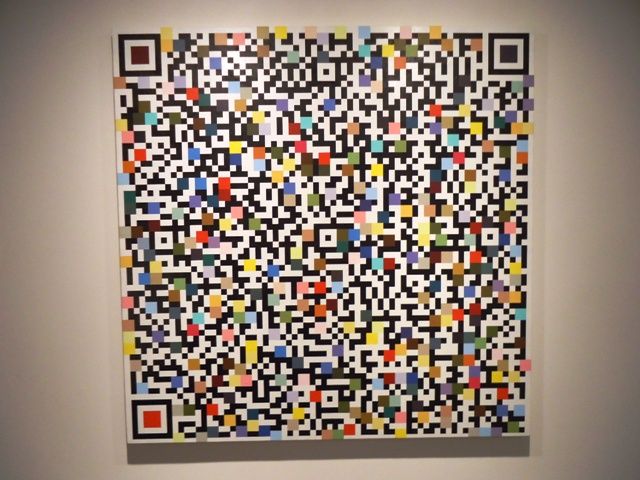 couplands piece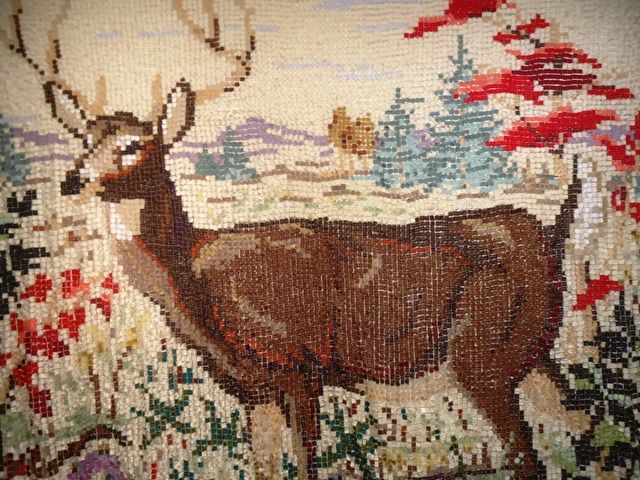 this was probably my favourite. little tiny pieces of paper thin fabric, composed and hung together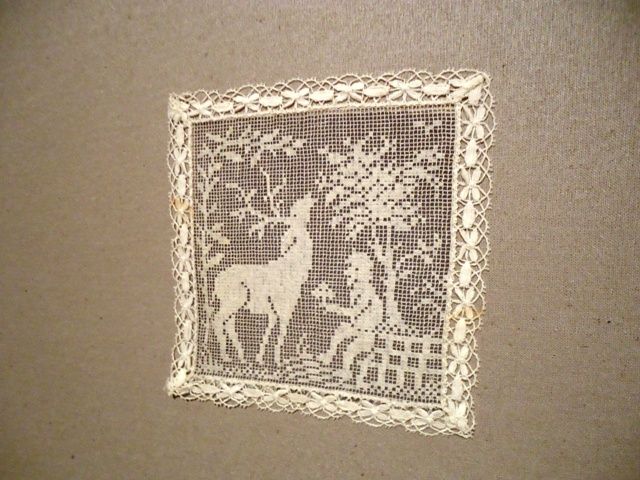 very old lace doily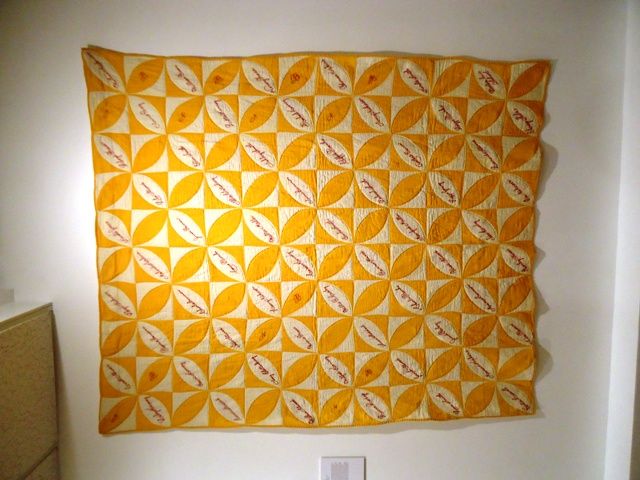 old quilt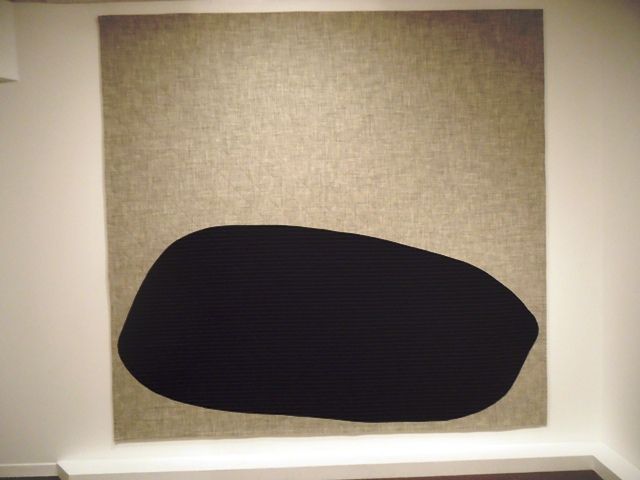 contemporary quilt
I also went to
The Art Gallery of Ontario
(AGO) and the
Museum of Contemporary Canadian Art
(MOCCA) but didnt enjoy any of the exhibitions they had going on so, no piccies.
the royal comedians - soulpepper theatre
So of course I went and checked out the local theatre company Soulpepper. Housed in the Distillery District this theatre company is a hybrid between Red Stitch and The Malthouse. I enjoyed this play, the production was excellent. I highly recommend checking them out if you're ever in Toronto - last minute tickets ("rush") bought in the last half an hour are $22.
death of a salesman - soulpepper theatre
I had never seen Death of a Salesman and it completely slayed me. I cried in bed all morning and it lingered for days. The two main actors are also husband and wife in real life and obviously very loved - they both received a standing ovation from the audience. The production values of this company are excellent, some of the best I've seen (if not a little academic and safe). But they were both very traditional plays I saw. Their program is also a little safe but a good mix of old and new with some Canadian content also. I'm so glad I saw this I think it will be one of the best productions of this play I will ever see. It was so loaded with emotion and history (and sooo confident - this was the second mounting in 2 years). love love love.
lawless
Nick Cave finally got to make his Appalachian romance and it doesnt fail to impress. All the hallmarks of a John Hillcoat/Nick Cave/Warren Ellis collaboration - amazing music, Noah Taylor, Guy Pearce, secret Australians and Gary OLDMAN HOLY FUCK.
Look its not the most tense or cohesive film (it falls flat in some spots) but its paced very well and everyone is super sexy. ENOUGH FOR ME. Oh and for the amazement and grace of the universe Emmylou Harris is also on the soundtrack #dying
3.5/5
ps: yes I realise all my pictures have gone. In my paranoia about googleplus I deleted all my albums on my phone and didnt realise it also DELETES THEM EVERYWHERE. Blog should be perdi in 1.5 weeks when I'm home.