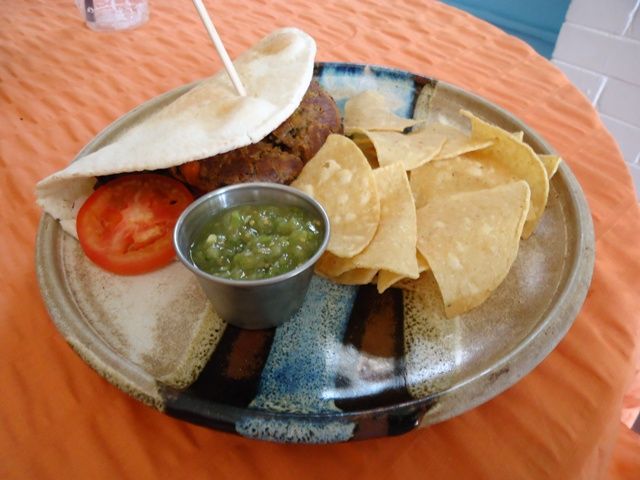 I love the crazy adventures seeking vegan food takes you on. I caught the tram downtown to the centre of Phoenix, which has had quite a big revival/flood of activity in recent years. Downtown wasn't somewhere you would usually go as it mainly housed government and offices but now there are quite a few chain stores, malls etc. The implementation of the light rail has done wonders for the city of Phoenix.
Phoenix is a sprawling nebular of suburbs that were only connected by highway until the tram. I think this is a really cool development. Especially if you are poor - if you can't afford to have a car you are pretty much stuck. You can't ride a bike long distances in 50 degree heat (Phoenix does have a bus network that is mainly local so you have to do quite a few changes to get long distances). ANYWAY I looked up vegan restaurants in Downtown and there is one, so I headed there before I went shopping.
I forgot that you don't see other people on the street in Arizona. It's just too hot. So walking the 3 city blocks from the tram to
A Side of Heart
was post apocalyptic eerie. I literally DID NOT SEE ANOTHER PERSON (imagine walking from Exhibition St along Bourke to the mall and not seeing a single soul). In a happy accident I walked past a very cute cafe called
Song Bird
for which I popped in to cool down (it was about 45 degrees) and get a caffeine hit. Song Bird is situated in a big factory type space with artists and small businesses co sharing upstairs. All very Melbourne.
Then it reminded me. On my last night of living in Arizona I went on the
Phoenix art walk
. As mentioned in my roundup is a monthly walk of the art area. This is where I was and its STARKLY DIFFERENT during the day/not art walk. Again, more like I am Legend rather than thriving art district so it didn't surprise me when I rocked up to A Side of Heart to see it was in some dudes
house.
Like all of the houses in that area its been taken over by something and walking past it a few days later on art walk with a DJ out the front dropping 'this is how we do it' to a crowded street of people it could not be more different. However I popped in, was the only customer and ordered the raw burger.
I'm not sure if he misunderstood me, was too baked or this is their raw burger but I didn't mind. It was completely delicious. A few other people popped in for lunch while I was there, a bizarre mix of people, from students to hippies to suits. It's on the edge of town but I guess everyone is used to driving short distances there. Fresh coconut water with pulp, a small, light, freshly made meal and I was ready to hit the streets again.
Finding A Side of Heart and the district its in is an adventure on it's own. The food is literally vegan home cooking and truly served with a side of heart. Check it out if you're in town.
deets:
901 N 5th St, Phoenix web: no website
$$: burger was $7.90
other voices, other times:
FIRST