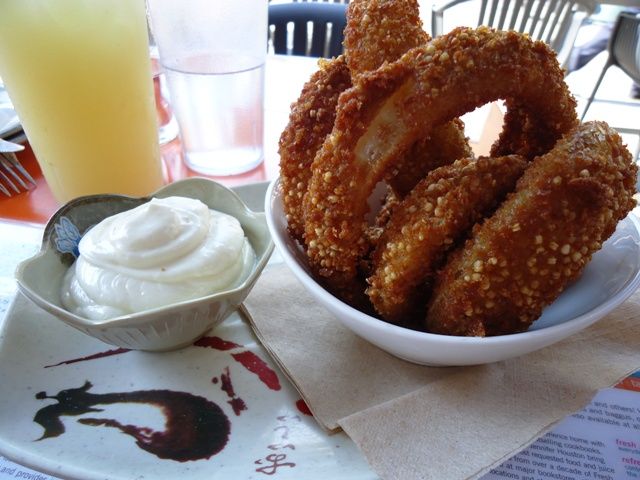 quinoa onion rings with garlic mayo $6.50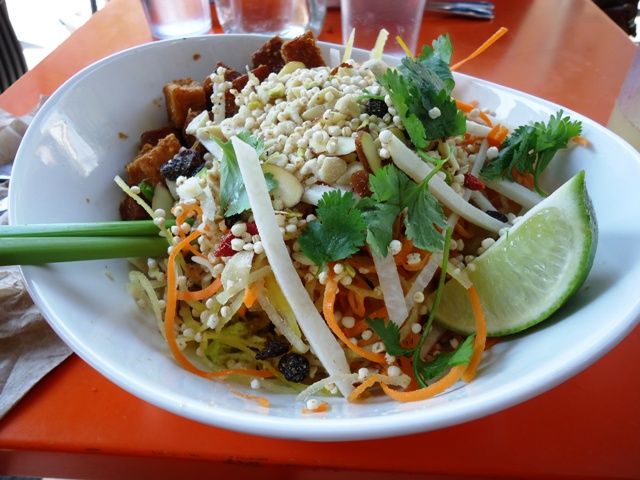 tangled thai bowl -
shredded carrot & yellow beets, jicama, napa cabbage, chopped peanuts, cilantro, cucumber, Fresh Salad Topper and peanut lime dressing $9
I could eat at Fresh everyday of my life and never get bored. NEVER. It was one of the most consistently highly rated veggie restaurants in Toronto (second to Hibiscus) and I thought.. well if they were so right about Hibiscus WANT.
Fresh have 3 locations in Toronto and have been around since 1999. They are dearly loved and HUGELY popular - get there during lunch time crowd crush and it's some of the craziest insanity I've EVER seen. Thankfully we managed to get a table on the patio at the Spadina location because I think if I'd sat inside with all those people going in and coming out I would have gone crazy.
My friend Graham had gotten confused and gone to the Bloor location so while I was waiting for him to arrive I had the quinoa onion rings. VOODOO PEOPLES VOODOO. The crunchiest, perfectly thick coating on fresh onion with a garlic mayo that is the most creamy and luscious mayo I've ever had. Must learn to recreate immediately.
I had such a hard time deciding I just ordered what Graham did. It was so SO good. Exactly as described FRESH with a really tangy dressing that cut into the raw vegies. You know how much I love the Vegie Bar but Fresh is their next level mackin' sister. Look at how huge their friggin menu is!
Sometimes you just want a shit load of vegies. Sometimes you don't. Fresh has you covered either way.
deets:
3 locations in Toronto
web:
fresh
$$: cheap
other voices, other times:
a flexitarian couple's blog
food junkie chronicles
blissfully mine