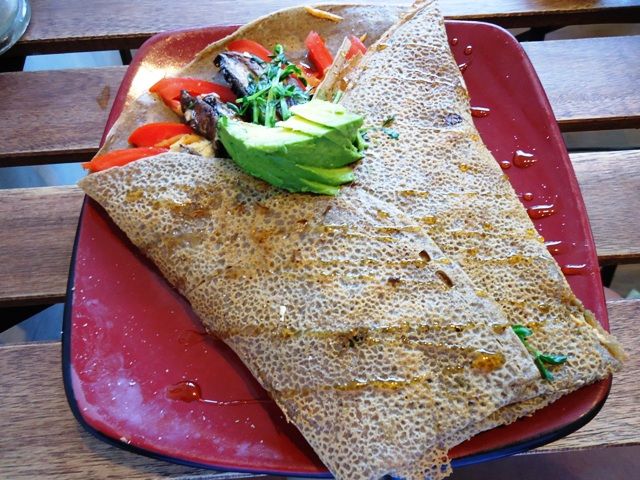 buckwheat crepe with tomato, fresh basil, spinach and avocado $9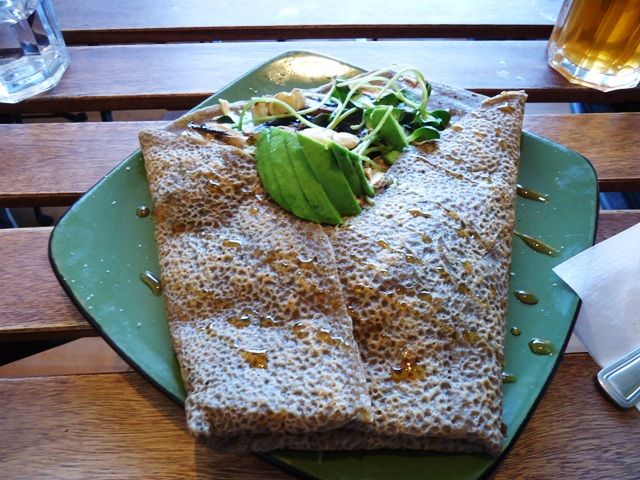 buckwheat crepe with mozzarella, spinach and mushroom $9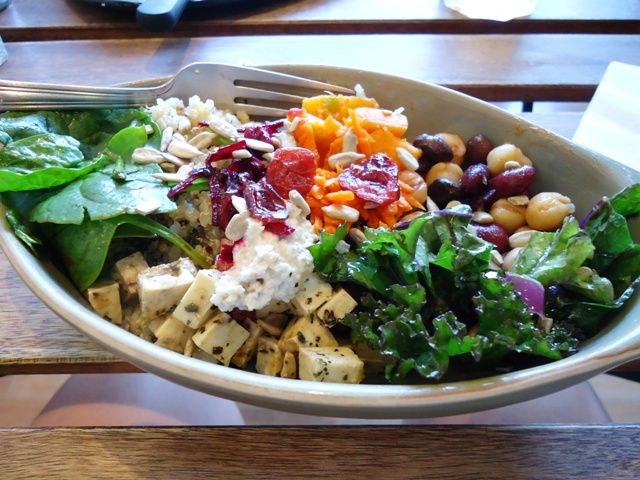 add a small side salad for $4.20
Hibiscus was easily one of the best meals I had while I was away. Easily.
Situated in trippy dippy Kensington Markets (a lot like Brick Lane) it would probably get over looked a lot as there are quite a few other vegetarian places near by and it's a quiet, unassuming cafe situated in the ground floor of a terrace house.
On a steamy, drizzly day sitting down in cool, light filled, very peaceful Hibiscus totally rocked my world. I knew it was veg but didn't know it was gluten free also, BOOM. They have a small menu consisting of soup (changes daily), savoury and sweet crepes and salad (changes daily). Everything is vegan on the menu except the choice of cheese in your crepe.
Hibiscus is the only place who have demonstrated to me reasons for the down right evangelical proselytizing of any vegan with a twitter account about Daiya. I had eaten and cooked with Daiya in many different forms and at many different places and just sort of thought... meh. Each crepe I ate came with a combination of Daiya that was so melty and so gooey I almost cried. It was just.like.mozzarella.
The super fresh ingredients, the outstanding crepe and the finishing touch of a small drizzle of maple syrup (of course) completely blew my head off my neck. I went two days in a row. It's moments like that that remind me of the magic of travel. I had become so bored with cooking, uninspired and after eating something so simple and fresh I became excited about food again. Crepetown - population me.
It's worth also mentioning that they have a large range of vegan ice creams with gluten free cones. Could this place be any more amazing? Hibiscus is the kind of cafe that makes me think I *could* be bothered opening a place of my own.
deets:
238 Augusta Ave, Toronto
web: no website
$$: as above plus tax and tip
other voices, other times:
me, myself and food,
ate by ate
drawn and devoured
vegan backpacker
kat can rawr