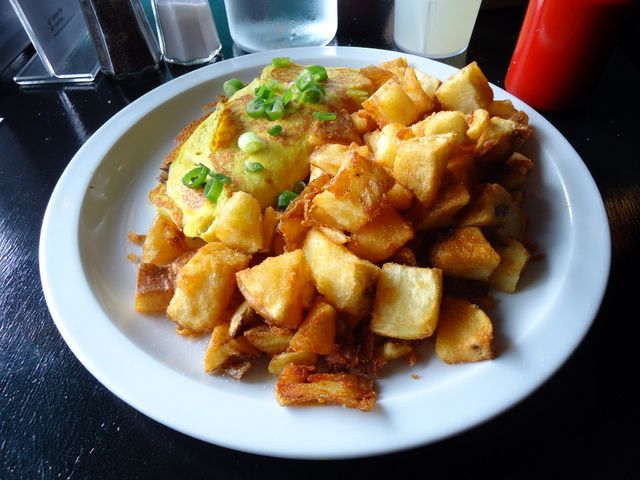 fried tofu "egg" omelet stuffed with caramelized onions, mixed mushrooms, daiya cheddar and fresh herbs $12
OH YEAH HOGTOWN VEGAN. My friend Cynthia (whom I was in Toronto to visit) was deathly ill with the flu the entire time I was there. I kept "saving" Hogtown Vegan for her but it came to the last day I was in town and I had to make a break for it.
So, like an episode of the Amazing Race, I hustled my way across town on a train, a bus and finally a cab to get to Hogtown before I trecked out to The Beaches to see Cyn. I didn't realise (but should have) that it was the
brunch menu
on offer - which in reality didn't phase me one bit because I would have a hard time choosing off any of their menu's.
I went with the gluten free option. This was a very very decent omelet. Light and fluffy, quite cheesy and well balanced flavours. The side of hash was too much, in size and carb loading. I ended up taking half of each away for a snack later. The meal could have done with half the amount of hash and another side, like collard greens.
The service was quick, friendly and efficient. It was a nice time of day to be there, people still waking up and tucking into some hearty vegan cooking. The
dinner menu
looks far far more enticing for me and I look forward to demolishing it the next time I go to Toronto. And so ends the Tdot leg of my trip! NYC next kittens.
deets:
834 Bloor St W. Toronto
web:
hogtown vegan
$$:
12 bucks plus small tip and tax
other voices, other times:
where's the beef?
this is vegan
m the vegan
peach, plum, orange
the socially awkward vegan
the bad seed
drawn and devoured
amanda factor
ate by ate