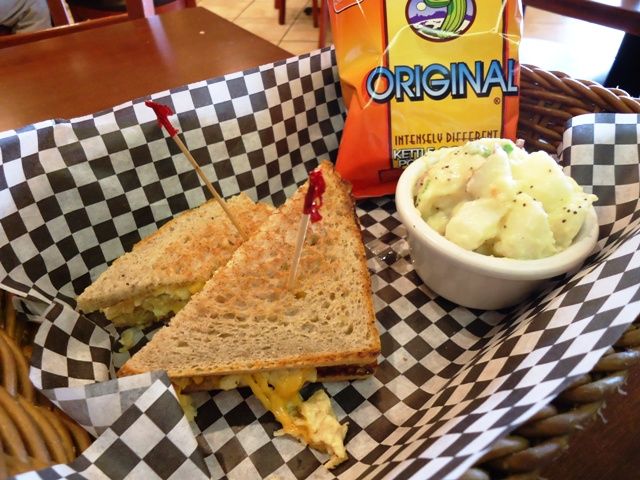 tuna melt sandwich basket $6.95
On our way down to
Kartchner Caves
we thought we'd stop half way in Tucson and get some lunch. As there is only one vegan restaurant in town we headed straight to
Lovin' Spoonfuls
.
It's a sweet little restaurant that's a little hard to find in an outdoor mall. You order at the counter and they bring your food out to you when it's ready. They have a dedicated gluten free menu (as does quite a few vego places in the States) and as usual it was ridiculously hard to choose - their menu is enormous and delicious sounding. I went for the tuna melt as, well, who could resist? Since when can you get a gluten free vegan tuna melt?
You have a choice of sides between potato salad, coleslaw or carrot and walnut salad. I went with potato salad, as well POTATO SALAD. I thought it was really cute it came out in these little diner baskets with a packet of crisps.
My sandwich was pretty good. I thought it would potentially have the too fake weird factor but they hand make their own gluten free bread and the 'tuna' is tofu so it really only left the Daiya as super processed 'food'. The potato salad was golden and I wished there was more. For dessert I got a gluten free chocolate chip cookie the size of my head. It was spectacular, so much so I didn't get a photo.
Tucson is a much bigger town that I thought it would be (I imagined small country town), it's actually really a small city. So now I understand why all my friends thought I was so weird for wanting to go there. It's a really really small version of Phoenix. Not somewhere I'd be going back to but if you do go to Lovin' Spoonfuls!
deets:
2990 N. Campbell Ave, Suite 120, Tucson
web:
lovin' spoonfuls
$$:
super cheap
other voices, other times:
quarry girl
do life right
berry sweet vegan