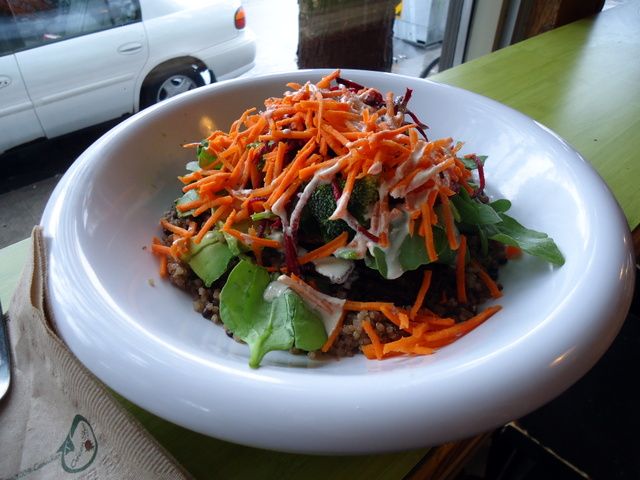 There was something about Urban Herbivore that really rubbed me up the wrong way. I found the service rude, inattentive and expected you to know how it worked and when you didn't made you feel stupid.
There was no explanation of the (labourious) ordering process. No drinks available apart from their own creations, the two drinks I asked for were sold out so I gave up (went and got water - both jugs were empty and was given a withering stare when I asked for some).
There's a large menu of sandwiches but I went with the bowl option.You can choose between a base (quinoa, brown rice etc), a couple of proteins (bbq tofu, marinated tempeh etc) and then 4 or 5 salad bits and your choice of dressing.
The food was fresh and healthy. Too healthy for me, it had little flavour. The huge cakes cabinet was filled with vegan cakes (most gluten free) which all looked exciting. I was just looking at the cabinet and sussing out what I might want when one of the employees (who was already half serving someone) rushed over with a knitted brow and asked "would you like some cakes?" and I said sure I was just thinking about it. To which she coursely barked "well you will need to wait until I've finished serving this person" and rushed back to who she was serving.
This experience sums up my meal at Urban Herbivore. The hilarity of it was there were only 3 customers the entire time I was there and 2 servers.
It was like the bad old days - a place run by baked hippies who are constantly frantic for absolutely no reason.
I wrote this review because, although I haven't positively reviewed them before, you read this blog on recommendations of places for when you are travelling and I would heartily label this as avoid.
Hibiscus
is down the street, go there.
deets:
just dont.
other voices other times:
The negative reviews on Yelp correlate very accurately to my experience
.