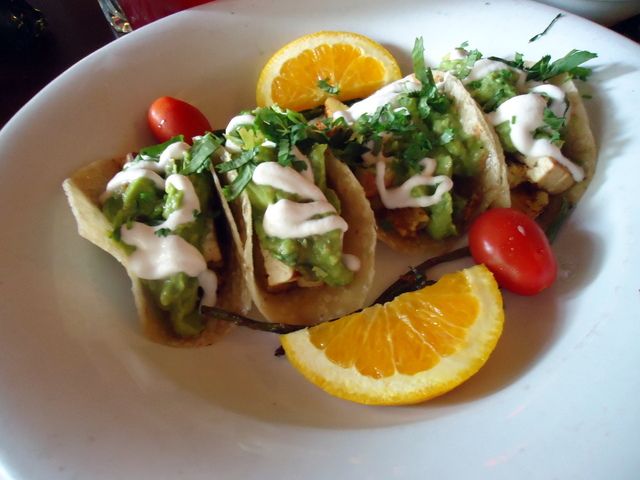 tofu taquitos - pineapple, guacamole, chile d'arbol sauce, sautéed leafy greens $18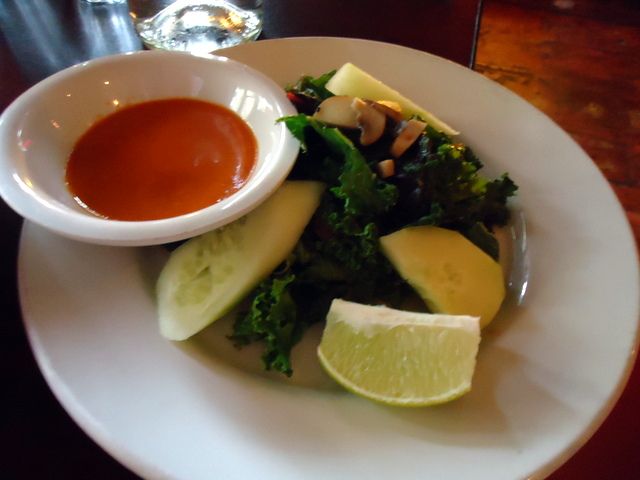 side dish with taquitos
On a rainy, muggy day I found myself FINALLY eating at Caravan of Dreams. I had heard SO much about it not only through the vegan community but also my friend who lives in the East Village - it's his favourite place to eat.
So stakes were high. At 1pm I was the only person there which was strange. I felt like a little marble just rattling around. Caravan of Dreams is in a lower floor location so is quite dark (you still get natural light), I think it's best suited for dinner. It was so dark and quiet I wanted to eat my meal and get out.
So that wasn't a great set up for the food. The menu is pretty spectacular with raw and cooked food such as wild rice and cremini risotto croquettes, spanish paella (with vegan chorizo) and raw beet ravioli. It was hard to pick (but when isn't it in the states). I didn't feel like a raw meal so went for the seitan tacos (gluten free).
My meal was pretty delicious but with a drink the total came to $30 which I thought was too expensive at the time. Thinking about it now it's probably the same price and quality as Real Food Daily (and organic as well) so I'm really thinking it was just the atmosphere.
Interestingly Caravan of Dreams predates RFD by two years in being one of the first vegan organic restaurants (COD opened in 1991). So with a history like that I find it really really amazing.
Go, but go for dinner (or a heaving brunch on the weekend). Lula's is around the corner too so save room for dessert.
deets:
405 East 6th Street, New York
web:
caravan of dreams
$$:
as above plus tax and tip
other voices, other times:
awesome to be rawsome
fromato vegan
kristens raw
a soy bean