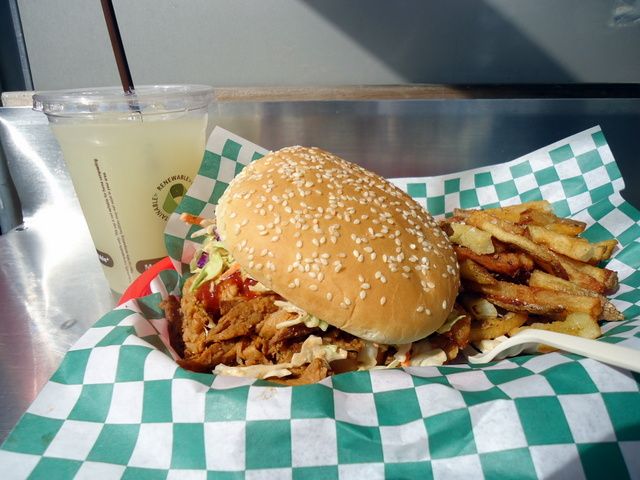 SloSmoMoFo – smoked soy curls on a grilled bun with maple bourbon bbq sauce and chipotle slaw $8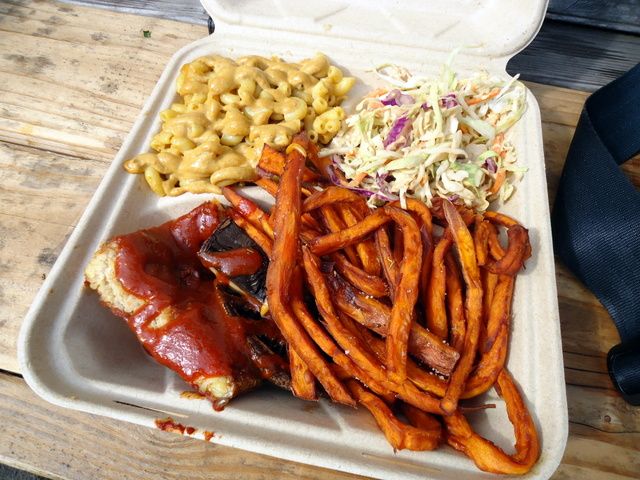 Homegrown platter – chronic tempeh ribs, smoked portabello, mac-nocheese, sweet molasses cornbread, sweet potato fries, chipotle slaw $10
I just want to cry looking at that photo. This,
Hibiscus
and the
jerk tofu at Mercedes Grill
were the best meals I had while I was away.
Sometimes vegan bbq is too dry, too oily, too rubbery or too over powering. Homegrown Smoker is *perfect*. No I really mean it. The slaw was crisp, creamy and with a small chipotle hit. The burger was just a PERFECT bbq burger. The sauce was subtle and perfectly married all the ingredients together (usually it's all you can taste). The bun was slightly sweet and super soft. HEAVENLY.
The second meal was what I took on the plane home. Why THE FUCK would you eat airline food when you can eat that? I fell asleep on the tarmac so I missed the meal service anyway - but perhaps I did because I knew I didn't have to wait. And when I woke up 7 hours later instead of salvaging potato chips and juice boxes I got to eat THAT. I almost squealed when I woke up and remembered I had the meal waiting for me (and I was finally hungry).
The macnocheese is GRAND. You know why? Because it reminded me of vegan cooking I did ten years ago. It is just a simple nooch sauce, probably made with stock and maybe some blended cashews. It was freaking delicious. No fancy 'cheezes' just a simple sauce.
The braised 'ribs' were great - using the same bbq sauce at the burger. The mushrooms were fantastics and a nice bit of vegetable amongst all this (ha).
The staff were SUPER sweet too. I couldn't decide which sides to get so they gave me three! I also had the minted lemonade which they refilled for free. Homegrown Smoker would be right at home here in Melbourne. Perhaps I'll go and kidnap them.
deets:
mississippi marketplace, portland
web:
check out their MENU!
$$:
as above
other voices, other times:
I don't eat puppies
quarry girl
nashveggie
the vegan adventures of meggie and ben
fat gay vegan
seitan beats your meat